ACCESSWIRE
Jump for Menopause: Science&Humans Spreads its Wings for Over 100 Million Women Across North America During Menopause Awareness Month this October
News provided by
ACCESSWIRE
Sep 19, 2023, 10:30 AM ET
MISSISSAUGA, ON / ACCESSWIRE / September 19, 2023 / Science&Humans (S&H), a consumer-first digital platform for hormone health treatments, will be hosting a major campaign and charity event in support of menopause awareness. This October - Menopause Awareness Month - S&H will be deploying skydivers at various drop zones around North America under the banner "Jump for Menopause" to raise awareness, combat stigma, and provide treatment options.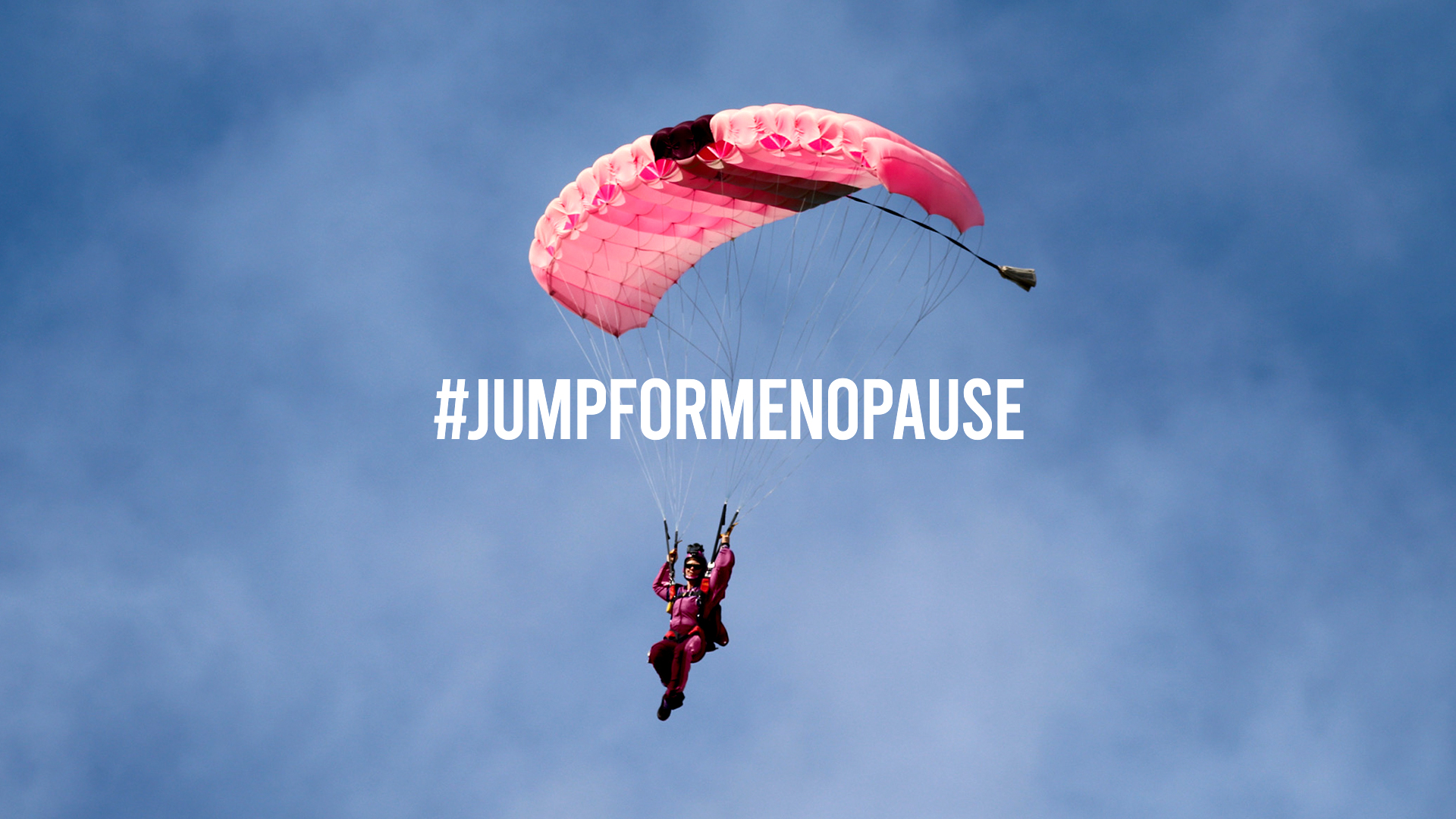 S&H has developed the "Jump for Menopause" campaign because of its staggering effect on women both personally and professionally. It is currently estimated that one quarter of Canada's 19-million-person work force are women over the age of 40. 10% of these women will be forced out of the workplace because their menopause symptoms are debilitating, leaving senior positions empty and taking their valuable knowledge and experience with them. Of the women who stay and are contemplating leaving, 74% feel their employer is not supportive or don't know if their employer will provide enough support to help them manage this unavoidable stage of life.
As a member of S&H's Medical Advisory Board, Endocrinologist and Geneticist Dr. Fady Hannah-Shmouni MD FRCPC, shares the economic impact of menopause in the United States alone, "With over 1 million women in the U.S. undergoing menopause each year, and a projected 1.1 billion postmenopausal women worldwide by 2025, the potential in the menopause market is immense, particularly for innovative companies offering frictionless and consumer centric-digital products and services."
How women are coping with menopause at home is even more devastating. In today's world it seems as though no subject is off-limits for discussion but, shockingly, half of women feel that menopause is a "taboo" topic and feel unprepared for a phase that could last nearly 10 years.
S&H Co-Founder and COO, Hira Siddiqui, expresses, "Women spend roughly one-third of their lives navigating the unique challenges of menopause-a journey often shrouded in taboo and silence. As a millennial, I'm keenly aware that my generation is on the brink of this milestone, facing a glaring lack of preparedness and a cloud of misinformation. Our mission is clear: to offer unwavering support and empower women, ensuring they not only endure but thrive during this decade-long journey, guided by evidence-based solutions."
Women simply feel alone and helpless while trying to manage their symptoms as 41% of women in Canada attempted to seek out medical advice, but 72% of those found it to be either not helpful or only somewhat helpful. In the United States, 45% of women share that menopause symptoms have affected their lives, but 20% say they experienced symptoms for longer than a year before receiving a formal diagnosis and 34% experiencing symptoms have not sought out a formal diagnosis or received one. These women feel as if there is no reliable support system and that needs to change. Throughout the stages of menopause, women can experience the well-known symptoms of hot flashes and night sweats but a vast majority are unaware that urinary tract infections, heart palpitations, headaches and migraines, anxiety, depression, and memory issues can all be a result as well.
Because of these harsh realities, awareness campaigns are often created in the wake of tragedy, such as the 2022 "Shattered" campaign that ran in the UK and was inspired by a Yorkshire local who had lost his wife to suicide at the age of 56. This is exactly why S&H is determined to bring awareness to the cause in a more positive light that focuses on proactive treatment and preventative action.
So far, S&H has released the locations Clewiston and Sebastian, Florida, and Niagara Falls and Toronto, Ontario, as drop zones with more to come. Skydive Spaceland Clewiston will be leading "Jump for Menopause" as the very first drop zone with co-owners Lisa and Rick Hornsby excited to lend hands-on assistance to lift the campaign off the ground. The team of skydivers at each 'drop' throughout October will be led by Chris Serrano, who is an award-winning creative director and skydiving athlete based in Florida. Additionally, S&H has selected Women's Health Collective Canada (WHCC) as the recipient of all donations that will be given on behalf of this campaign. Numerous individuals have already pledged their support to this campaign, as they prepare to launch, it is anticipated many more will contribute.
Entities interested in becoming a sponsor of "Jump for Menopause" will have tiered sponsorship options to choose from and as part of all packages will become a Women's Health Accredited Employer. As an accredited employer, entities will receive a free HR toolkit, education sessions and assistance with navigating access to care that will aid in empowering all employees in an inclusive and informed workplace with the right information to support their hormone health and wellbeing.
For all persons and companies looking to support "Jump for Menopause" on social media, the official campaign hashtags are: #jumpformenopause, #menopauseawarenessmonth, #science&humans, #menopause, #menopausesupport, #menopausehealth, #womenshealth, and #hormonehealth.
About Science & Humans (S&H)
Science & Humans is a first-of-its-kind platform transforming how individuals fulfill their hormone health and wellness needs. The company's consumer-first digital platform offers treatments for hormone health, longevity, aging, and sexual wellness. Science & Humans is dedicated to providing accessible options and results for individuals living with hormone imbalances in North America.
As S&H grows, the future will have a particular focus on treatments for women as the company has recently expanded from being exclusive to men's health to a gender-inclusive platform.
S&H is excited to release more details of its upcoming "Jump for Menopause" campaign ahead of the October activation and is thrilled to be reaching many more women and supporters with its commitment to championing women and catalyzing menopause awareness in North America.
Patient transformation stories and detailed product information is available on the S&H website at www.scienceandhumans.com, while entities looking to sponsor "Jump for Menopause" are asked to contact S&H directly.
*Disclaimer: The foundations and/or associates acknowledged for their campaigns or research in this press release are entirely independent and not associated with our products or organization in any manner.*
Contact Information:
Aftab Pashaw (Founder & CEO)
Email: communications@scienceandhumans.com
Website: https://www.scienceandhumans.com/
LinkedIn: https://www.linkedin.com/company/scienceandhumans/?viewAsMember=true
Instagram: https://www.instagram.com/scienceandhumans_ca/?igshid=YmMyMTA2M2Y%3D
SOURCE: Science&Humans
View source version on accesswire.com:
https://www.accesswire.com/785131/jump-for-menopause-sciencehumans-spreads-its-wings-for-over-100-million-women-across-north-america-during-menopause-awareness-month-this-october
NOTE: This content is not written by or endorsed by "KTVI", its advertisers, or Nexstar Media Inc.
For inquiries or corrections to Press Releases, please reach out to Accesswire.