EIN Presswire | Newsmatics
Satellite Technologies Safeguarding Global Cultural Heritage at the UN General Assembly Science Summit
News provided by
EIN Presswire
Sep 18, 2023, 8:19 PM ET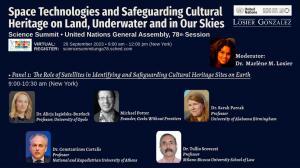 Space Technologies and Safeguarding Cultural Heritage on Land, Underwater and in Our Skies
Geeks Without Frontiers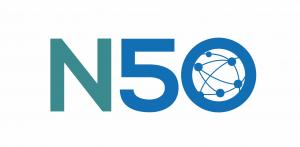 N50 Logo
Geeks Without Frontiers and the N50 Initiative Call for Accelerating SDGs at UNGA
Satellite technologies are essential to protecting the environmental commons as well as humanity's cultural heritage and ensuring digital sovereignty."
— Michael Potter
NEW YORK , NEW YORK , USA, September 18, 2023/
EINPresswire.com
/ -- Leadership of
Geeks Without Frontiers
, the
N50 Project
Initiative, and the
Institute of Space Commerce
will be advocating for accelerating SDGs at the Science Summit at UN General Assembly (UNGA 78). The Summit will feature a panel discussion on Satellite Technologies and Safeguarding Cultural Heritage on Land, Underwater and in Our Skies on Wednesday, September 20th at 9am ET.
According to Michael Potter, co-founder of Geeks Without Frontiers and its N50 and Indigenous Resilience Network initiatives, "Satellite technologies are essential to protecting the environmental commons as well as humanity's cultural heritage."
The UNGA Science Summit is convening 325 sessions and 1,400 scientists, engineers, policy analysts, and investors to encourage global collaboration in attaining the United Nations Sustainable Development Goals (SDGs) and generating actions toward The Summit of the Future in September 2024. This event is free and can be streamed via Zoom from 12-29 September 2023 by registering at:
Sciencesummitunga78.sched.com
Agenda and List of Speakers
Moderator: Dr. Marlène M. Losier (Losier González, PLLC)
Co-Convener: Kim E. Degnan (Advanced Technologies.Space)
Panel #1: " The Role of Satellites in Identifying and Safeguarding Cultural Heritage Sites on Earth"
Time: 9:00 - 10:15 am EDT (New York)
Dr. Alicja Jagielska-Burduk (University of Opole)
Mr. Michael Potter (Geeks Without Frontiers)
Dr. Sarah Parcak (University of Alabama at Birmingham)
Professor Tullio Scovazzi (Milano-Bicocca University School of Law)
Panel #2: "Balancing the Use of Satellites with Preserving Our Dark and Quiet Skies"
Time: 10:15 - 11:00 am EDT (New York)
Dr. Andrzej J. Jakubowski (Polish Academy of Sciences)
Dr. Domingos Barbosa (Instituto de Telecomunicações)
Dr. Andrew Williams (European Southern Observatory)
Panel #3: "Art & Cultural Heritage Beyond Earth"
Time:11:00 am - 12:00 pm EDT (New York)
Dr. Bernard Foing (EuroMoonMars)
Professor Nahum Romero Zamora (Kosmica Institute)
Professor Michelle Hanlon (For All Moonkind)
About the Science Summit at the UN General Assembly
The International Science Council and its partners have organised the 9th edition of the Science Summit around the 78th United Nations General Assembly (UNGA78) on 12-29 September 2023. The Summit will examine what enabling policy, regulatory and financial environments are needed to implement and sustain the science mechanisms required to support genuinely global scientific collaborations across continents, nations and themes.
https://sciencesummitunga.com/
About Losier & González, PLLC
Losier & González, PLLC is a legal boutique that advises private and public clients on international and national rules relating to culture and space policies affected by maritime, terrestrial and beyond Earth considerations often resulting from the succession of states in the post-colonial context. The firm specializes in complex matters of sovereign immunity and jurisdiction, where they conflict, when they are evoked in areas beyond national jurisdiction and specifically in respect to issues relating to title and proprietary rights.
www.losiergonzalez.com
About Geeks Without Frontiers
Geeks Without Frontiers (Geeks) is a platform for global impact. An award-winning non-profit, Geeks' mission is to promote technology for a resilient world including bringing the benefits of broadband connectivity, health, education, poverty reduction, gender equality, and the other UN Sustainable Development Goals (SDGs) to the estimated 3 billion people who remain unconnected.
Learn more at
www.geekswf.org
.
About the N50 Project
The N50 Project accelerates digital adoption and community enrichment through innovative applications, network design, and business models to enable the next 50% of the world's population. Broadband adoption will be accelerated and sustained, globally, through commercial, non-profit, government, and community partnerships. Geeks is the Project Management Office for N50.
Learn more at
www.n50project.org
About the Institute of Space Commerce
The Institute of Space Commerce is a non-partisan non-profit organization dedicated to the study of the economics and policy of commercial activity in space. Through its fellowships, scholarships, and other research and engagement activities, the Institute is accelerating the growth of a commercially viable space economy, ensuring a safe and sustainable space environment, and advocating for the advancement of the space sector for the betterment of humankind and the natural world.
https://change.space
Media Officer
Institute for Space Commerce
email us here
Visit us on social media:
Facebook
Twitter
LinkedIn
Instagram
YouTube
The N50 Project: Bridging the Digital Divide - Progress Starts with Partnership
NOTE: This content is not written by or endorsed by "KTVI", its advertisers, or Nexstar Media Inc.
For inquiries or corrections to Press Releases, please reach out to EIN Presswire.