EIN Presswire | Newsmatics
Space EA Introduces "InQuiro Semiconductor Technology" - New Microchip Manufacturing Subsidiary
News provided by
EIN Presswire
Sep 19, 2023, 7:30 AM ET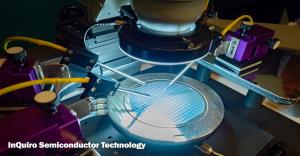 The microchips and sensors will appear hidden and undiscernible to other networks and cyber operations.
New subsidiary of Space EA called "InQuiro Semiconductor Technology" (IST), launches this year - newest US-based semiconductor chip manufacturing subsidiary
These next generation microchips perform in almost any application from computers, telecommunications, utility power grids, green energy technology, manufacturing, and across multiple industries."
— Rico Jones
EL SEGUNDO, CALIFORNIA, USA, September 19, 2023/EINPresswire.com/ -- Space system experts at Space Engineering & Acquisition Systems, Inc. (Space EA) introduce InQuiro Semiconductor Technology (IST), the newest addition to the corporation. IST, the microchip manufacturing arm of Space EA is a subsidiary scheduled to launch this year. As part of an aggressive expansion plan, IST will provide next generation manufacturing technology.
Space EA has had an impressive record of accomplishments over the past 15 years as engineering and space technology experts. They've worked with large government contracts for the Department of Defense, NASA and the US Space Force, while its subject matter experts (SMEs) have over four decades of advanced technology. With the newest addition, Space EA will not only develop satellite technology but also the microchips that are used in the satellites. These next generation microchips will be able to perform in almost any application from computers, telecommunications, utility power grids, green energy technology, manufacturing operations, and applications across multiple industries.
InQuiro Semiconductor Technology is scheduled to have manufacturing capabilities for microchips of various sizes 7nm, 12nm, 24nm and more. Their mission is to shift commercial and government customers to faster production cycles and lower costs compared to current advanced and specialty chip manufacturing capabilities. By using a new maskless process that is capable of advanced node, low volume manufacturing, and high customization microchips, IST will be able to expedite delivery to their customers almost 90% faster than existing technologies. While existing chip manufacturers will take 1 year or more to produce a microchip order, IST can produce it within weeks.
Another key advantage is IST and Space EA's collaboration with Austin-based technology company NewLinum LLC, to develop a quantum-secure cybersecurity software solution on a microchip. Called "Secure Chips", it's the first microchip of its kind in this new era of technology. NewLinum's proprietary software technology package is designed to protect networks from cyber-attacks utilizing unique processes. According to company officials, Secure Chips technology application will be deployable after the launch of IST.
Heralded as a technological breakthrough, every microchip and sensor that IST produces will be secured against cyber-attacks and infiltration including quantum computer attacks. The microchips and sensors will appear hidden and undiscernible to other networks and cyber operations. Network transmissions cannot be detected therefore making it impervious to external interruptions through hacking, denial of service (DDoS) attacks or other unwelcome intruders.
All protocols of the security technology activate a patented random data generator, which never repeats a pattern and results in exponential algorithmic complexity and randomization. It does not respond to port probes, fake IP attempts, unapproved network messages, replay-, altered-, or inserted messages, DDoS, and MiTM.
Rico Jones, Founder and Principal Director of Space EA and IST, explains in more detail, "Our technology suite utilizes a patented Network Access Control - a hardened network process which is immune to external hacking and DDoS attacks. Its hyper-secure global intranet methodology provides no discernable data to an unauthorized attempt. Space EA has initiated R&D into the field of microelectronics ruggedized hardware solutions which will negate the effects of an electromagnetic pulse (EMP)".
Cyber protection on microchips and sensors is critically important. A disruptive attack on a power grid for example, can cause a series of effects and cripple the city it serves. IST's new technology for microchips has multiple proprietary protocols which enable quantum-proof secure channels of communication within the network.
Dr. John Seamons, PhD., Chief Technical Officer (CTO) at Space EA and IST, highlighted that, "the on-location internally generated token creation and destruction is a gamechanger in the area of key distribution and token security. The technology operates without the limitations and physical security needs of traditional tokens."
The quantum computer is 158 million times faster than the most sophisticated supercomputer. It is widely known to be the next big threat to cyber technology. According to IST, Secure Chips technology delivers multiple post-quantum cryptographic algorithms that defeat attacks by Quantum Computing, Cryptanalysis, Statistical Analysis, Mathematical Analysis, and AI. The technology has successfully undergone and excelled in stringent government, academic, and military testing.
"The quantum emergence drives a global shift to post-quantum cybersecurity. IST's cyber solution facilitates an intrusion-proof data exchange mechanism to overcome quantum computing threats," explains Rico Jones.
Rico Jones
InQuiro Semiconductor Technology
+1 949-562-3536
info@spaceea.com
NOTE: This content is not written by or endorsed by "KTVI", its advertisers, or Nexstar Media Inc.
For inquiries or corrections to Press Releases, please reach out to EIN Presswire.