GlobeNewswire
Anika Announces the Full Market Release of the RevoMotion™ Reverse Shoulder Arthroplasty System during the 2023 Orthopaedic Summit: Evolving Technologies (OSET) Annual Meeting

News provided by
Anika Therapeutics Inc.
Sep 19, 2023, 9:00 AM ET
RevoMotion Reverse Shoulder Arthroplasty System significantly expands Anika's shoulder arthroplasty portfolio and provides a bone conserving and innovative solution in the $1 billion1 U.S. reverse shoulder market

RevoMotion adds to a growing, highly differentiated portfolio to treat the full continuum of rotator cuff disease including our recently launched X-Twist™ Fixation System and newly cleared Integrity™ regenerative hyaluronic acid (HA) based patch system launching in Q1-2024
BEDFORD, Mass., Sept. 19, 2023 (GLOBE NEWSWIRE) -- Anika Therapeutics, Inc. (NASDAQ: ANIK), a global joint preservation company, today announced the full market release of their RevoMotion Reverse Shoulder Arthroplasty System (RSA) at the 2023 Orthopaedic Summit (OSET) Annual Meeting on September 20-23 in Boston, MA. Throughout the event, Anika will feature the RevoMotion RSA as well as the recently cleared Integrity Implant System and the recently launched X-Twist Fixation System at Booth #304 and during various educational opportunities throughout the conference.
"We're excited to participate in this year's OSET Annual Meeting, where we are showcasing our breakthrough new products focused on early intervention orthopedics, including the launch of our RevoMotion Reverse Shoulder Arthroplasty System, designed specifically to address clinical needs through a truly bone preserving design with simple and efficient instrumentation," said Cheryl R. Blanchard, Ph.D., Anika's President and CEO. "We are also thrilled to preview at OSET our recently cleared Integrity regenerative HA-based rotator cuff patch system, which is uniquely strong, versatile, and easy-to-use. Integrity has an innovative delivery and fixation system and has greater regenerative capacity compared to first generation collagen patches. Anika's cutting-edge shoulder portfolio, which also includes our recently launched X-Twist suture anchors, Tactoset HA-enhanced injectable bone substitute cleared for hardware augmentation, and OVOMotion with Inlay Glenoid Total Shoulder Arthroplasty, is further reinforced by the full market launch of RevoMotion. Based on the very positive surgeon feedback during our successful limited market release, we are confident that RevoMotion and our expanding rotator cuff portfolio meaningfully enhances the value that we can provide to surgeons and their patients in both the ASC and hospital settings."
Key benefits of RevoMotion include:
Industry's smallest diameter threaded glenoid baseplate: RevoMotion features the industry's smallest diameter threaded baseplate2, which preserves bone, provides flexibility in positioning, and maximizes fixation of the glenoid components, all while achieving substantial fixation via a central compression screw.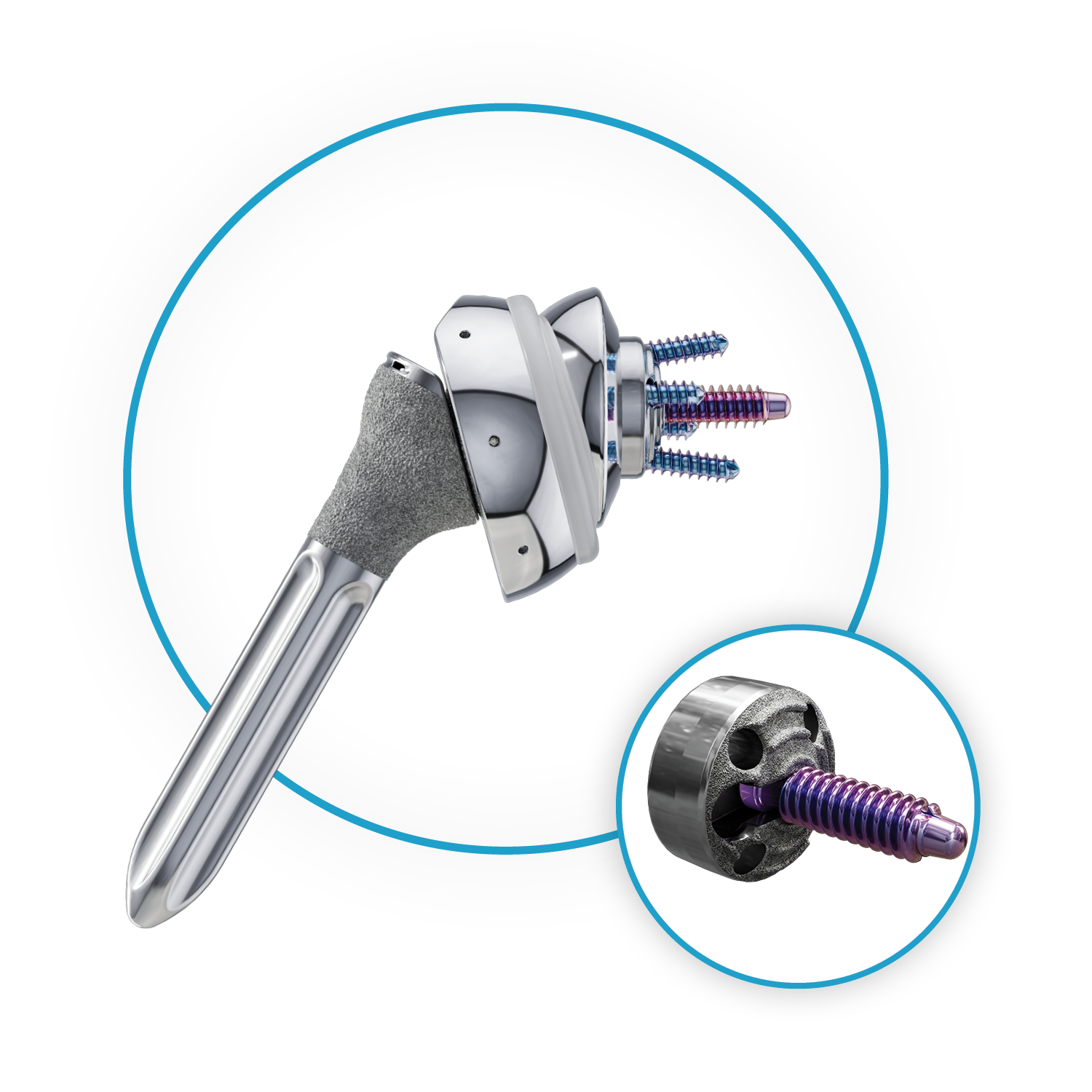 RevoMotion™ Reverse Shoulder System showing smallest diameter threaded glenoid baseplate

Mid-lay Humeral Implant: Partially in-lay and partially on-lay, with seven humeral tray sizes providing a more precise fit and are designed for optimal range of motion and reduced risk of scapular notching. The humeral tray and bone preparation are designed to decrease stress shielding on the proximal humerus with forces evenly distributed across entire proximal humerus.
Bone preservation and patient personalization: The system includes bone preserving glenoid and humeral designs intended to provide patient personalization via numerous humeral tray offerings which match the native anatomy, similar to other implant system designs in Anika's Arthrosurface Joint Solutions portfolio including the flagship OVOMotion® with Inlay Glenoid Total Shoulder Arthroplasty System.

Enhanced efficiency for surgeons and facilities: With its two streamlined instrument trays, RevoMotion appeals to both surgeons and facilities looking to optimize efficiency. The consolidated instrumentation is both Ambulatory Surgery Center (ASC) and hospital friendly, reducing back table footprint, limiting sterile reprocessing, and reducing relative costs associated with more complex designs currently on the market.


"The RevoMotion Reverse Shoulder Arthroplasty System fills a vital place in Anika's shoulder arthroplasty portfolio, which now offers the full line of solutions to meet my patients' needs," said Christopher Baker, M.D., Florida Orthopaedic Institute, Tampa, Florida. "RevoMotion offers significant advantages, including a 23mm diameter baseplate, the smallest threaded baseplate on the market. This allows the potential to save glenoid bone-stock and provides flexibility in positioning, allowing me to treat a variety of glenoid morphologies. With short term follow-up we are seeing tremendous satisfaction from our patients and improving pain and function." 
Additionally, Anika will be showcasing its other compelling products like the OVOMotion with Inlay Glenoid TSA System, the only system that offers a true Inlay Glenoid, with data demonstrating that inset performance does not equal inlay, X-Twist Fixation System, and Tactoset™ Injectable Bone Substitute which is indicated for both hardware augmentation and use with Bone Marrow Aspiration (BMA).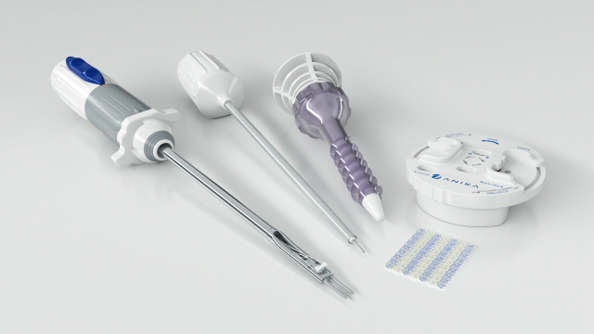 Integrity™ Implant System

Furthermore, Anika will have the newly cleared Integrity Implant System available for preview and demonstration at the booth. Integrity is a highly anticipated regenerative hyaluronic acid-based patch system for augmentation of rotator cuff repairs and is comprised of the HA-based patch implant, fixation implants, and single use arthroscopic delivery instruments. In a pre-clinical head-to-head animal study, Integrity demonstrated greater regenerative capacity at both 12- and 26-week endpoints2. Additionally, Integrity is inherently strong and can be confidently manipulated arthroscopically, which offers a unique and differentiated solution. The Integrity Implant System was fully cleared by the FDA in August 2023 with market launch targeted for Q1-2024, view press release here.
Christopher Baker, M.D., of the Florida Orthopedic Institute also commented, "I'm excited to see Anika working to improve the biologic augmentation market starting with rotator cuff repair. While some collagen products on the market are showing promising results with biological incorporation, in animal studies, Integrity facilitated improved biological healing without the use of animal collagen, while also providing a scaffold that can add strength to the construct at the time of implantation. In addition to improving the patch itself, they have also identified a more streamlined surgical technique. This product could improve patient outcomes and reduce the likelihood of future failures of rotator cuff repair."
There will be multiple opportunities throughout the 2023 OSET Annual Meeting in Boston to learn more about Anika's compelling products at the Anika Booth, #304, as well as during other educational sessions:
RevoMotion Moderated Live Surgery Wednesday, September 20th at 8:30AM during the main program. Watch as Stephan Pill, M.D., from Steadman Hawkins performs RevoMotion RSA surgery while Anthony Miniaci, M.D., moderates on site.
RevoMotion Educational Dinner Symposium, Wednesday, September 20th at 6:00 PM where faculty will present and walk attendees through hands-on RevoMotion training. Join us as Anthony Miniaci, M.D., and Wasik Ashraf, D.O., present data and case studies demonstrating the benefits of our new bone-preserving, patient-centric RSA solution. Contact your Anika distributor if interested in attending this dinner event.
Various Ask the Surgeon sessions at the Anika Booth #304. Schedule of events will be posted on the Anika LinkedIn page leading up to the conference. For those surgeons not attending OSET, RevoMotion is now widely available in the United States. Please contact your Anika distributor for additional information, including training opportunities.


1 2023E SmartTRAK Data
2 Data on file

About Anika
Anika Therapeutics, Inc. (NASDAQ: ANIK), is a global joint preservation company that creates and delivers meaningful advancements in early intervention orthopedic care. Leveraging our core expertise in hyaluronic acid and implant solutions, we partner with clinicians to provide minimally invasive products that restore active living for people around the world. Our focus is on high opportunity spaces within orthopedics, including Osteoarthritis Pain Management, Regenerative Solutions, Sports Medicine and Arthrosurface Joint Solutions, and our products are efficiently delivered in key sites of care, including ambulatory surgery centers. Anika's global operations are headquartered outside of Boston, Massachusetts. For more information about Anika, please visit www.anika.com.
ANIKA, ANIKA THERAPEUTICS, INTEGRITY, OVOMOTION, REVOMOTION, TACTOSET, X-TWIST, and the Anika logo are registered trademarks of Anika Therapeutics, Inc.
Forward-Looking Statements
This press release may contain forward-looking statements, within the meaning of Section 27A of the Securities Act of 1933, as amended, and Section 21E of the Securities Exchange Act of 1934, as amended, concerning the Company's expectations, anticipations, intentions, beliefs or strategies regarding the future which are not statements of historical fact, including statements regarding the planned launch and future expansion of Integrity, the potential success of Integrity in improving the treatment of rotator cuff disease, the potential growth of the rotator cuff augmentation market, the anticipated adoption of RevoMotion RSA, and specifics around planned educational sessions . These statements are based upon the current beliefs and expectations of the Company's management and are subject to significant risks, uncertainties, and other factors. The Company's actual results could differ materially from any anticipated future results, performance, or achievements described in the forward-looking statements as a result of a number of factors including, but not limited to, (i) the Company's ability to successfully commence and/or complete clinical trials of its products on a timely basis or at all; (ii) the Company's ability to obtain pre-clinical or clinical data to support domestic and international pre-market approval applications, 510(k) applications, or new drug applications, or to timely file and receive FDA or other regulatory approvals or clearances of its products; (iii) that such approvals will not be obtained in a timely manner or without the need for additional clinical trials, other testing or regulatory submissions, as applicable; (iv) the Company's research and product development efforts and their relative success, including whether we have any meaningful sales of any new products resulting from such efforts; (v) the cost effectiveness and efficiency of the Company's clinical studies, manufacturing operations, and production planning; (vi) the strength of the economies in which the Company operates or will be operating, as well as the political stability of any of those geographic areas; (vii) future determinations by the Company to allocate resources to products and in directions not presently contemplated; (viii) the Company's ability to successfully commercialize its products, in the U.S. and abroad; (ix) the Company's ability to provide an adequate and timely supply of its products to its customers; and (x) the Company's ability to achieve its growth targets. Additional factors and risks are described in the Company's periodic reports filed with the Securities and Exchange Commission, and they are available on the SEC's website at www.sec.gov. Forward-looking statements are made based on information available to the Company on the date of this press release, and the Company assumes no obligation to update the information contained in this press release.
For Investor Inquiries:
Anika Therapeutics, Inc.
Mark Namaroff, 781-457-9287
Vice President, Investor Relations, ESG and Corporate Communications
investorrelations@anika.com
For Media Inquiries:
Greenough
Christine Williamson, 617-922-1289
Senior Vice President
cwilliamson@greenough.biz


NOTE: This content is not written by or endorsed by "KTVI", its advertisers, or Nexstar Media Inc.
For inquiries or corrections to Press Releases, please reach out to GlobeNewswire.