This is an archived article and the information in the article may be outdated. Please look at the time stamp on the story to see when it was last updated.
NORTH ST. LOUIS COUNTY, MO. (KTVI) – St. Louis County Police search for a hit-and-run driver, while a North-County family mourns a 2-year-old.
Of course, this family, this neighborhood is devastated.  They are trying to understand that one child is dead this morning, while another is fighting for her life.
St. Louis County Police said a driver hit 2-year-old Darion Griffin and his 17-year-old aunt Shariea Evans just after 8 p.m. Sunday. This was on Redman Boulevard just west of Bellfontaine Road.  Officers said that while family and neighbors tried to check on the children, the driver simply left.
Both Griffin and Evans were rushed to the hospital.  Evans is recovering.  Griffin was pronounced dead.
Griffin's grandmother, Alexandria Goree, was distraught.  Relatives held her up while she sent a message to the driver.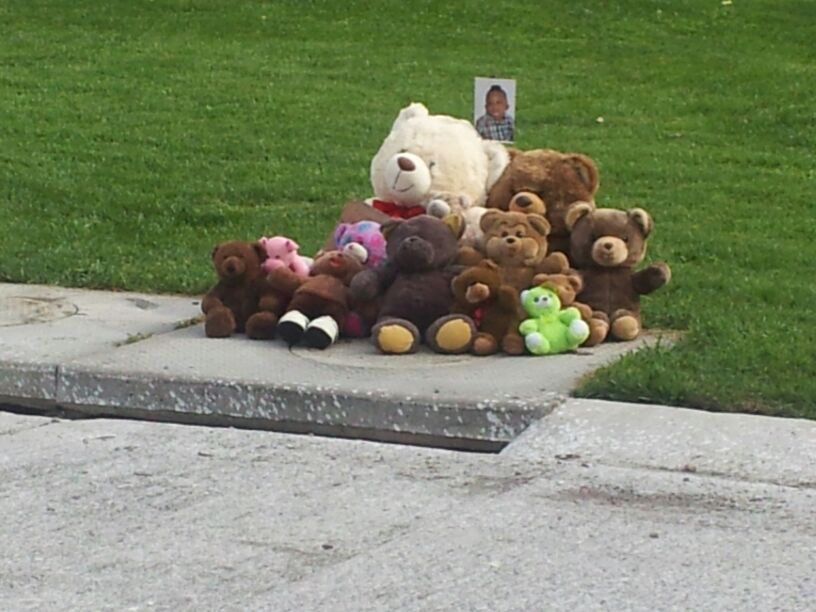 "I'm just asking whoever you are, please have a conscience and just come forward. My grandson did not deserve this," she cried.  "You know you hit him.  You took a precious life from us.  He was our world.  He was our everything.  So please, please, just asking that you come forward."
While another grandchild cried, Goree collapsed.
Her neighbors said traffic on this street can be dangerous.
"About five years ago, we had someone down here driving down the street, driving fast," said neighbor Ron Wilson.  "They ran into a house.  It's just terrible."
Wilson stood next to his son and daughter and watched the scene.
"Man it hurts. It hurts honestly," he said.  "For a two-year old to get hit, for somebody to just recklessly just driving down the street, I mean, it's crazy."
St. Louis County Police are looking for a white SUV with tinted windows.  The truck may have a chrome running board.
If you have any information on this hit-and-run you are being asked to call
CRIMSTOPPERS AT 866-371-8477 (TIPS).  You can also leave a tip online at
Friend me on Facebook:  facebook.com/KimHudsonTV
Follow me on Twitter: twitter.com/kimhudsontv
Email me:  kim.hudson@tvstl.com