This is an archived article and the information in the article may be outdated. Please look at the time stamp on the story to see when it was last updated.
ST. LOUIS COUNTY, MO (KTVI) – A report from an academic research center says babies born in different parts of north St. Louis County share a life expectancy gap of more than a decade.
After examining 2000 and 2010 census data from across the region, the Virginia Commonwealth University's Center on Society and Health determined kids born in and around Old Jamestown have an average life expectancy of 81 years, compared to newborns in Jennings, who have a life expectancy of 69 years.
The VCU Center on Society and Health studies the implications of societal factors on community health. There is no single reason for the life expectancy gap, according to the research group, meaning there is no magic bullet cure for the problem.
Education and job opportunities, safe and affordable housing, clean air, and access to health care, child care and other social services affects overall community health and, thus, life expectancy.
The group released a map highlighting the differences in life expectancy across north county.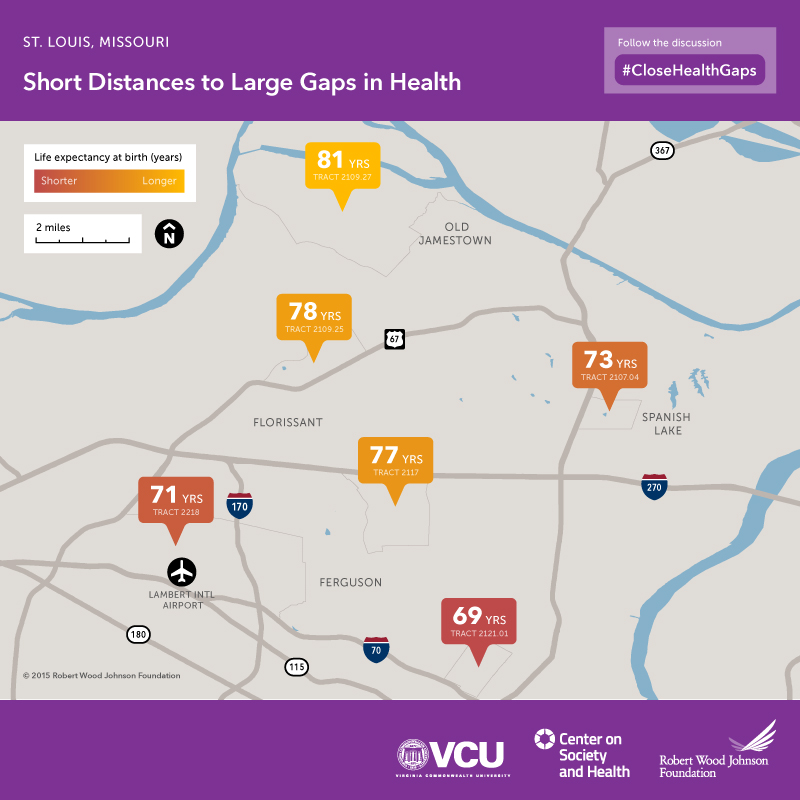 The Center on Society and Health released additional life expectancy data for particular census tracts on its website.
The organization has conducted similar analysis for  Atlanta, Chicago, Cleveland, Denver, Detroit, Las Vegas, New York, Phoenix, and Trenton.