This is an archived article and the information in the article may be outdated. Please look at the time stamp on the story to see when it was last updated.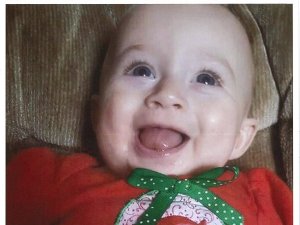 NORMANDY, MO (KTVI) - An AMBER Alert was issued Thursday afternoon for a 5-month-old girl who was in a vehicle that was taken from a north country business parking lot.
The child was identified as Eden Brooke Hawthorne.
According to the Missouri State Highway Patrol, the incident occurred outside the Church's Chicken in the 7200 block of Natural Bridge Road on Monday, December 19 at 8 p.m.
According to investigators, the child and her mother were traveling with three men and another woman. The vehicle pulled into the parking lot at the Church's Chicken; the mother and one of the men got out and went inside the business. The other three adults took off in the car with the baby still inside.
The missing vehicle was described as a dark grey 2006 Chrysler Town and Country minivan, with Missouri license plates PN4R7B.
The suspects were described as:
African-American woman, age unknown, 5'8" tall and approximately 215 pounds, with black short-braided hair, brown eyes, and wearing a yellow and black jacket
African-American man, age unknown, wearing a dark jacket
African-American man, age unknown, 6'2" tall and approximately 180 pounds, with dreadlocked hair
It is unclear what, if any, connection the mother had with these four individuals.
The FBI was notified and is investigating the disappearance.
Anyone with information on the whereabouts of the child or vehicle is asked to contact either 911, their nearest law enforcement agency, or the Normandy Police Department at 314-385-3300.
Fox 2 News will have more information on this story as it becomes available.