This is an archived article and the information in the article may be outdated. Please look at the time stamp on the story to see when it was last updated.
ST. LOUIS, MO (KTVI)- Just in time for the holidays!
A 5-month-old baby girl received hearing aids for the first time and her reaction was priceless.
"We thought receiving her hearing aids she will be a little bit quieter. She said you all thought wrong."
Little Corlena was born full term at 5 pounds, 7 oz. Her parents, Cori and Kalonda Cloyd say she failed her hearing test in the hospital. At first they though it may have been a glitch in the system until they began receiving letters to bring her in for more testing. Hesitant of the results, the couple decided to take her back in and at two-months-old, Corlena failed the test again.
At that point, the Cloyd's took her to see an Ear, Nose and Throat Specialist.
Their fears became reality when they received news that Corlena had hearing loss in both of her ears.
Cori and Kalonda spent numerous weeks in turmoil about Corlena and her ability to learn, speak, act and coexist with her peers. They were informed that Corlena's hearing loss is permanent.
Things began to look up once they were introduced to wonderful programs and resources.
Kalonda says The Moog Center for the Deaf and Missouri First Steps have been phenomenal with helping her family.
Corlena received her first pair of hearing aids on Monday, December 7th. The family decided to share the good news with an emotional Facebook post: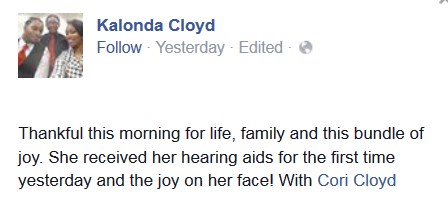 "She was so happy and the joy on my baby's face when she realized she can actually hear, was priceless."
In addition to hearing loss, Corlena also suffers from feeding dysfunctions. She is below the average weight and size for a child her age.
However, with the help of their amazing dietitian and Gastrointestinal doctor, they're working through this process!
"We are thankful that we did not continue to ignore her diagnosis and wait too late to help her succeed."
The videos, posted to Facebook, have over 1,100 views.
The family has created a Fundly account for Corlena's future medical expenses.
For more information visit fundly.com.
Related stories: Update: Family of baby who received hearing aids for the first time shares story
Watch this 6-month-old receive the gift of hearing