This is an archived article and the information in the article may be outdated. Please look at the time stamp on the story to see when it was last updated.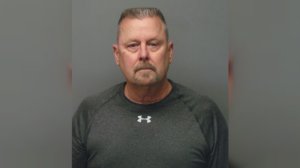 ST. CHARLES, Mo – The St. Charles County Prosecuting Attorney's Office charged a 65-year-old man for shooting an Amazon delivery driver in the back following a dispute in a Target parking lot.
According to Lt. Tom Wilkison, a spokesman for the St. Charles Police Department, the shooting happened just before noon Tuesday in the parking lot just outside the Target on Mexico Road.
Police said the Amazon delivery driver, identified as Jaylen Walker, pulled into a handicap parking space near the front of the store and was talking to another Amazon driver when the suspect pulled up. The suspect, identified as Larry Thomlison, was apparently upset about the Amazon truck being parked in the disabled space.
Thomlison took out his cellphone to document the Amazon truck in the handicap space. He posted a picture of the illegally parked delivery truck to his Facebook page.
Wilkison said Thomlison did have a handicap placard in his car.
St. Chares County Prosecutor Tim Lohmar said Thomlison waited for Walker to come out of the Target and confronted him. It's unclear if Thomlison was recording the confrontation.
Walker pushed Thomlison aside, at which point Thomlison punched the Amazon driver in the face. A struggle ensued and both men fell to the ground. As Walker got to his feet, he noticed a pistol in Thomlison's waistband. Walker began to back away and then turned to run. Thomlison then pulled the gun from his waistband and shot the 21-year-old delivery driver in the back.
Lohmar said Walker will suffer from permanent physical injury—possibly paralysis—as a result of the shooting.
Prosecutors charged Thomlison with one count of first-degree assault and armed criminal action. He'll be transferred to the St. Charles County Department of Corrections, where he'll be held on a $100,000 cash-only bond. If convicted, Thomlison could face between 10 and 30 years in prison.
In a news conference Wednesday afternoon, Lohmar chastized Thomlison's judgment and said he'd been through the St. Charles Citizens Police Academy twice and had a conceal-carry permit, so he should have known better when to use a weapon. The prosecutor said everything Thomlison did that day eliminates any argument for self-defense.