This is an archived article and the information in the article may be outdated. Please look at the time stamp on the story to see when it was last updated.
WATSON, IL (KTVI) - The Illinois State Police have taken over the case of missing Willow Long, 7.  She was reported missing Sunday by her mother.
On Monday night,  the body of a small child was found south of the village of Watson in Effinghman County.  The State's Attorney's office says four volunteer searchers located the body around 7:30 p.m.
Officials, however, have not confirmed that it is the body of Willow Long or any details about the body.
An autopsy is scheduled for Tuesday morning. On Tuesday morning, authorities suspended the search for Willow.
Hundreds of volunteers started searching for Willow on Sunday. She wandered away from her house while her mother slept that morning according to investigators.
Deputies say the girl was watching a Disney movie with her three year old brother Sunday morning when her mother, who wasn't feeling well, decided to go back to bed.  When she woke up and asked where Willow was, the little boy pointed to the door, indicating she had left.
The search for Willow
"The corn fields are full of standing corn.  And the beans are pretty tall too. She's seven years old, so we want to make sure we cover everything.  It's hard to put a timeline on there and say we just give up, that there's not more we can do.  We don't feel that way."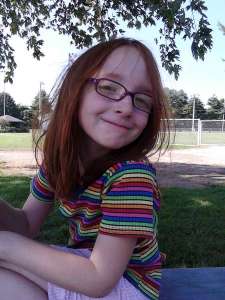 Search teams were on ATV's, horseback, and on foot throughout the area.  They were forming lines, arms lengths apart, and working their way through corn and soybean fields hoping to find the little girl.
"It's very worrisome for sure whether she could have kept walking or someone picked her up, it's hard to say," volunteer Eric Greenwood said.  "We like to think she's just sitting somewhere kind of freaked out waiting for someone to find her.  So that's why everybody's out here.  I know there's a huge group of people."
His wife Liz, a mom herself, says she had to be there.
"It's pretty devastating actually.  I was just compelled.  I couldn't sit there and do nothing."
As the search went on Monday, the temperatures in the high nineties became more and more of a factor. Search parties were finally pulled back at 2pm, kept out of the heat until 5:00.  Sheriff Monnet says as many as ten people were treated by medics.
Due to the conditions, officials announced late Monday afternoon that no more volunteers would be used to search after 8pm.
"For the safety and sake of all the civilians we will just use our emergency service people from now on.," Monnet said.  "So at 8:00 civilian search parties will cease and we will continue with our emergency service people at that time."
Family members of the missing girl weren't commenting Monday afternoon, other than to say they appreciated the efforts of those volunteering and expressing their hope that Willow would be found.
Police say there is no evidence at this point of any foul play in the girl's disappearance.
Willow lives with her mother, uncle and grandparents. Her mother and uncle were home when she went missing.
The two, ages 26 and 22, are being held for questioning according to the girl's grandfather.
"It isn't like Willow to wander away," said the grandfather. And he feels foul play is involved.
Willow is described as 4-feet-tall, about 46 pounds, with shoulder-length red hair.  She was last seen wearing a long purple t-shirt, like a nightgown.
Anyone with information is asked to call the Effingham County Sheriff's Department at 217-342-2101.