This is an archived article and the information in the article may be outdated. Please look at the time stamp on the story to see when it was last updated.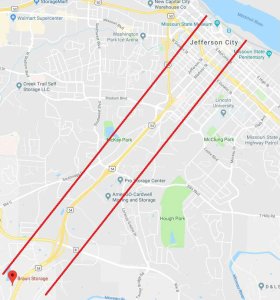 JEFFERSON CITY, Mo. – Damage from a tornado that struck Jefferson City overnight was concentrated in a 3-mile square area in the southern part of the city.
Jefferson City Police Lt David Williams said there are no reports of missing people in the city, but authorities will be making door-to-door checks Thursday.
Williams said no deaths were reported in Jefferson City from the storm that hit the state's capital shortly before midnight on Wednesday. About 20 people have been rescued.
The storm damaged the roof of a state labor department building but the Capitol and governor's mansion were not damaged.
Missouri Gov. Mike Parson surveyed the hardest hit areas in Jefferson City on Thursday and called the damage "devastating."
These are images from Bommarito Automotive SkyFOX Helicopter:
Due to the tornado and severe weather in Jefferson City last night we are asking that all non-essential state employees in the Jefferson City area remain at home on Thursday. We have damage to state buildings and power is down in some areas. Please be safe!

— Governor Mike Parson (@GovParsonMO) May 23, 2019
In Jefferson City, the state capital, there is extensive damage along Ellis Boulevard near Highway 54. Power lines are down. Traffic is being diverted as @MSHPTrooperGHQ & local first responders go door-to-door. Consider all power lines live.
Stay out of areas with damage. #MoWx pic.twitter.com/cPWQi1tzCJ

— MO Public Safety (@MoPublicSafety) May 23, 2019
@MSHPTrooperF is in Jefferson City assisting @JeffCityPolice and Cole County Sheriff Dept. after tonight's tornado. If you are NOT affected, please avoid the area. You will see several power lines down in these pictures. Treat them as though they are live. #MoWx pic.twitter.com/JHyNNfDX8F

— MSHP Troop F (@MSHPTrooperF) May 23, 2019
I'm so lost😖 pic.twitter.com/mcN7rn2Xze

— GEM. 💎 (@ixc_jazlynn) May 23, 2019
As of 4:00 a.m., Routes 50 and 54 through Jefferson City are open and most of the debris has been pushed to the side of the road. However, exits and many roadways within the city remain closed as damage evaluation and cleanup continues. #mowx #jeffersoncity

— MoDOT Central District (@MoDOT_Central) May 23, 2019