This is an archived article and the information in the article may be outdated. Please look at the time stamp on the story to see when it was last updated.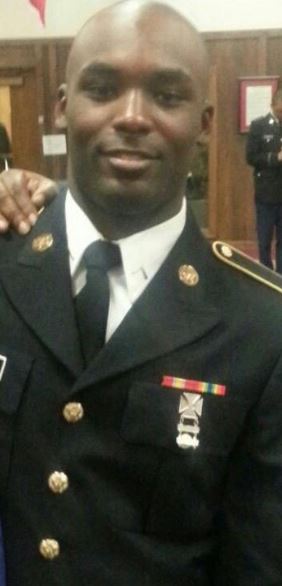 ST. LOUIS, MO (KTVI) – Police are investigating after a body was found Thursday morning in north St. Louis.
Robert Polk's body was discovered around 7:30 a.m. in an alley in the 8000 block of Frederick Street near Bittner.
Two men working for an asbestos abatement crew were clearing out drywall from the back of a home when they noticed a foul odor. They discovered the body underneath three pieces of drywall.
"It really did freak me out because we never knew when we removed that drywall that we would find a dead body there, "said Jerry Montaque. "It stunned me; I just had to get myself together and walk away for a minute."
Polk's aunt, Pamela Shepard, called the young man a "blessing" to her family.
"He helped heal us at a time when we lost my brother," she said.
According to our partners at the St. Louis Post-Dispatch, Polk died from a gunshot.
Poke's death would mark the 159th homicide in the City of Saint Louis in 2015. That equals the entire number of murders reported in the city in 2014.
A witness said Polk was wearing a black hooded sweatshirt and sweatpants that were pulled down, as if he had been dragged to the area. The hoodie was covering his face.
Robert Lovings Polk, 22, disappeared after he went to look at a used car he found on Craigslist on October 3.
Police said they've been monitoring Polk's financial accounts.  There appears to have been a transaction after his disappearance.
St. Louis police put out an alert on Wednesday asking FOX 2 to air his photo and information surrounding his disappearance. The investigation is now being treated as a homicide.  An autopsy is scheduled for Friday.
Anyone with information is urged to contact CrimeStoppers.  The phone number is 866–3 71–8477.
Missing Person Robert L. Polk was found deceased in the 8000 block of Frederick today. Anyone with info – call @STLRCS 866-371-TIPS(8477).

— St. Louis, MO Police (@SLMPD) October 15, 2015
DEVELOPING:area on Frederick in north Stl in Baden neighborhood where body of African American man found this AM. pic.twitter.com/6ugtpQlR71

— Chris Regnier (@chrisregniertv) October 15, 2015
DEVELOPING:another pic of area where man's body was found by workers around 7:30am. Homicide dets handling case.#stl pic.twitter.com/nGFECTOTNm

— Chris Regnier (@chrisregniertv) October 15, 2015
Scene where body of African American man found this AM-may be Stl's 159 homicide of yr. That would equal 2014 total. pic.twitter.com/HnKsce1I3q

— Chris Regnier (@chrisregniertv) October 15, 2015