This is an archived article and the information in the article may be outdated. Please look at the time stamp on the story to see when it was last updated.

KIRKWOOD, MO (KTVI) – Do you have an outstanding traffic or misdemeanor warrant for your arrest? If so, you have a chance to have that warrant erased.  The St. Louis Metropolitan area Amnesty Project is back. The first day is Saturday, August 2nd.
Between Saturday's event and two others this month, 17,000 people are expected to participate. Only traffic violations and other misdemeanor violations are eligible.
The offender has to pay a $10.00 processing fee and sit through a short seminar. They then take their voucher to court. They still have to pay any fines and court costs that are due, but arrest warrants will be waived, which is a major sigh of relief.
More than 65 St. Louis city and county municipalities are participating in 2014, including Frontenac, Florissant, and St. Charles County.
St. Louis Community College teams up with Better Family Life Inc. for the project.  For more information about the program call  314-381-8200 or visit www.betterfamilylife.org.
The dates are:
Saturday, Aug. 2 at St. Louis Community College at Meramec
Wednesday, Aug. 6 at St. Louis Community College at Florissant Valley; 
Saturday, Aug. 9 at St. Louis Community College at Forest Park. 
Each session will run from 7 am to 7 pm.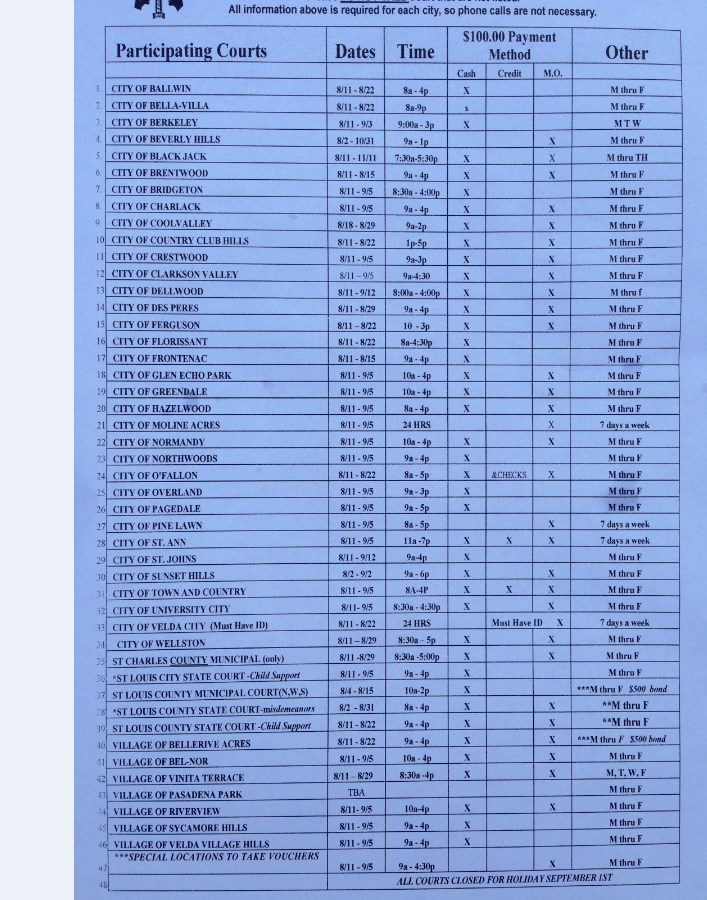 The Amnesty Project was established in 2002 as a one-day event to help citizens clear their records of outstanding traffic-related warrants. The program has expanded to include all misdemeanor warrants.