This is an archived article and the information in the article may be outdated. Please look at the time stamp on the story to see when it was last updated.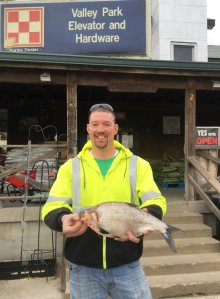 JEFFERSON COUNTY, MO (KTVI)- Congratulations to Riley Nolan who broke the state record by gigging a 2-pound, 6-ounce gizzard shad on the Big River. The Missouri Department of Conservation reports that he gigged a gizzard shad on the Big River in Jefferson County. The new "alternative method" record fish was caught on January 30, 2017, weighed 2 pounds, 6 ounces with a length of 17 inches.
The previous state-record was a 2-pound, 5-ounce gizzard shad gigged in 2013.
This was Nolan's only second time to be out gigging.
MDC agents verified the gizzard shad's weight at Valley Park Elevator and Hardware. Nolan plans to mount the fish.