This is an archived article and the information in the article may be outdated. Please look at the time stamp on the story to see when it was last updated.
CHESTERFIELD, MO – A man who robbed an elderly woman at a Chesterfield ATM Sunday morning could be linked to a similar crime in O'Fallon, Missouri.
The woman was attempting to withdraw money from a US Bank ATM on Clarkson Road shortly before 10 am Sunday, when she was approached by a man.
"The individual came up on foot, with either a stun gun or a taser in his hand," Chesterfield Police Sgt. Keith Rider said.
The woman handed over her purse and the suspect took off, he said. She was not injured.
Rider hopes surveillance images will help police track down the man. He is seen wearing a white cap, and white t-shirt with green lettering.
The crime has raised eyebrows within the police department.
"Nobody expects a robbery to happen at 9:50 in the morning on a Sunday," Rider said.
Rider said the same man is believed to have robbed someone at an O'Fallon, Missouri ATM the same day.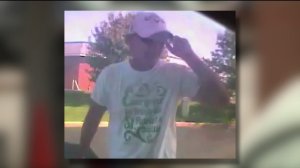 He hopes the incident serves as a reminder to the public to be aware of surroundings, no matter the time or location.
"If you do drive up with your vehicle to an ATM, make sure all your windows are rolled up, and locked. Except for the window you're using to put your card in, so somebody can't get in, or something like that," he said.
He added that anyone who appears to be loitering or acting suspicious should serve as reason to vacate the premises and contact authorities.
"The big point on this, if you see something suspicious, even before your start, go to a different place."
Anyone with information about the man seen in the surveillance pictures should contact Chesterfield Police at 636-537-3000.