This is an archived article and the information in the article may be outdated. Please look at the time stamp on the story to see when it was last updated.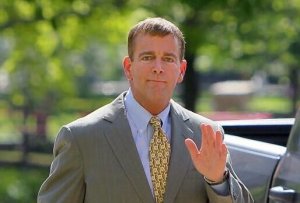 SWANSEA, IL – August Adolphus Busch IV, the former CEO of Anheuser-Busch, was held in the Swansea Police Department until Tuesday afternoon after a helicopter landed in a business park Monday. They say he may have been intoxicated and prevented the helicopter from taking off.  No charges have been filed in this incident.
Swansea Police say they found the helicopter in the parking lot of the Bronze Pointe Office Park Monday at around 12:45 p.m. They were concerned about the helicopter taking off because of obstacles in the area. They contacted the FAA about the situation.
A caller told Swansea police that Busch was returning to the helicopter at around 8:15 p.m. and appeared to be too intoxicated to take off. The helicopter's rotors and were spinning and the engine was revving up when police arrived on the scene. The officer turned on the emergency lights on the squad car and the pilot powered down the engine.
A second Swansea Police vehicle arrived on the scene. After a conversation officers administered a Standardized Field Sobriety Test. Busch appeared unable to keep a single train of thought.His speech appeared mumbled and slurred. But he blew a .000 on a breathalyzer test.
Police conducted more tests.  Information from court records says that Busch was unable to follow directions.  His wife, Dawna Wood, told officers that he has anxiety issues and is off of his medication because of recent fertility treatments. Officers told Busch that he was free to go but they say he kept rambling about unrelated topics.
Court records indicate that officers believe that Busch may have been under the influence of a controlled substance.  He was told that he was not allowed to get into the helicopter and fly away.
Busch told officers that he had a conceal carry license and had a Rohrbaugh R9 9mm in the front pocket of his pants.  He told them that the weapon was, "hot."  The removed the gun from his pocket.  Police also found Dexamethasone in his pocket.  The prescription was for August's wife.
At that point, Busch told officers that he was about to have a panic attack.  He began jumping and running sprints saying that he needed more oxygen to deal with the attack.
A search of the helicopter turned up several weapons.  Police discovered a loaded Ruger LCR 22 LR revolver, a Ruger SP101 .357 Magnum revolver with four live rounds, and a loaded Glock Austria .357 with one round in the chamber.  Investigators also found several bottles of prescription drugs; Letrozole prescribed for his wife and Alprazoiam, Clonazepam prescribed for Busch.  A large bag of prescription drugs that his wife said were to assist with fertility was also found.
Police gave Busch more sobriety tests.  They say he was unable to focus and they placed him under arrest.  They took him to the hospital to submit blood, urine, breath for testing.
"We have been in close communications and coordination with the FAA and the St. Clair County State's Attorney's Office. This is not your normal case that a street police officer handles. The safety and security of the community, the pilot and passenger were of the utmost concern," said Swansea Police Chief Steve Johnson in a Facebook post.
Busch was released from the Swansea Police Department at 12:30 p.m. Tuesday.  Family members are contacting another pilot to remove the helicopter.
The helicopter is registered to a company named Jagger 4 LLC and is based at Spirit of St. Louis airport.
Swansea resident Keith Padgett witnessed the helicopter landing.
"I was thinking it was going to hit the wires or hit a building or something," said Padgett.  He said after the landing he figured the pilot knew what he was doing.
Bob Weiluenster works in the area and said he saw the pilot get out of the helicopter after landing.
"He seemed fine," said Weiluenster.
Padgett hopes the investigation will reveal more details.
"It seems a little strange," said Padgett.  "I guess we drive our cars. Other people fly their helicopters."