This is an archived article and the information in the article may be outdated. Please look at the time stamp on the story to see when it was last updated.
ST. LOUIS, MO (KTVI) – An "Occupy" protest left two banks vandalized and an officer injured. All this happened just as Cardinals fans were on their way to their cars after a game.
During the NATO Summit in Chicago, police were accused of often using excessive force.
So several dozen protestors marched in downtown St. Louis Thursday night, in what they called solidarity with the Chicago demonstrators.
They spray painted slogans on the Fifth Third Bank at 10th and Olive downtown and then hit the People's Bank down the street.
When employees of People's Bank come to work Friday morning, they will find graffiti on their building.  The words, "Burn the Banks" was sprayed on the window. 
The Fifth-Third Bank fared worse. Someone sprayed "solidarity with those who resist" on the building. Another message was too graphic to show on television.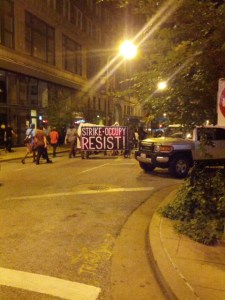 St. Louis City police say when the manager for Fifth-Third tried to stop the protesters, he was assaulted. They also say two officers were assaulted. One suffered a minor injury to his hand.
Ten people were arrested.
At this moment, the St. Louis circuit attorney's office is figuring out what, if anything the protestors will be charged with.