This is an archived article and the information in the article may be outdated. Please look at the time stamp on the story to see when it was last updated.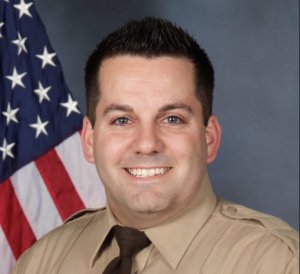 ST. LOUIS, MO (KTVI) - There is more to the officer who was shot and killed this morning in south St. Louis County than a sad statistic. Officer Blake Snyder was shot and killed by an 18-year-old suspect. He was an active church member, father and former IT worker.
Blake Snyder was a part of the community at Destiny Church in West County. Before he became a police officer, he was on their staff as the IT guy. He met and married Elizabeth at Destiny. They now have a 2-year-old.
Snyder became a policeman because Elizabeth's dad, Mike Sparks, was a police officer who died from cancer prematurely. Also, her brother, Justin Sparks, is a St. Louis County officer.
Officer Snyder was just known as Blake to the folks at Riverbend Family Ministries where he had been a board member for several years. He helped to provide a safe place to go for the children of families in crisis.
Synder grew up in the Alton and graduated in 2001 from Alton High School where he played soccer and football. He went to Lewis and Clark College where his dad was a trustee and a dean. After Lewis and Clark, Snyder attended Ranken Technical College in St. Louis where he studied architecture and graduated cum laude with a bachelor's degree in 2007. After that he worked as a graphic artist and volunteered as a board member at Riverbend Family Ministries until he decided to became a police officer in 2012.
Now friends at both Riverbend and Ranken are remembering Snyder as a talented artist and an exemplary man.
"He had a knack for design, whenever he would see any of his classmates struggling he would step right in. He became a teaching assistant when he was a student here and he helped students with technology, design; anything they needed." said Missy Borchardt of Ranken Technical College.
"We knew that he would give 600 percent to any community that he served. It is sad today that he gave the ultimate, but he did it in a way he loved. He wanted to serve by answering a call of someone in distress." said Tammy Iskarous of Riverbend Family Ministries.
According to his LinkedIn profile Blake Snyder also worked for his church and had worked at the Godfrey Parks and Recreation Department.
Would you like to help the officer's family? They have asked for donations to be sent through BackStoppers.
Police say they will not be setting up any crowdfunding sites like a GoFundMe account. Please do not click any links from people asking to donate there.
You can also mail a donation to:
The BackStoppers, Inc.
PO Box 795168
Saint Louis, MO 63179-0700