This is an archived article and the information in the article may be outdated. Please look at the time stamp on the story to see when it was last updated.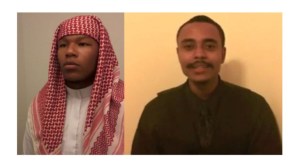 ST. LOUIS, MO (KTVI) – Two members of the New Black Panther Party face felony charges for conspiracy to use explosives to damage property during the Ferguson protests.
The Department of Justice says Olajuwon Davis and Brandon Orlando Baldwin wanted to use the explosives against people, buildings, vehicles and property. They say Davis and Baldwin also made an illegal firearms purchase at a Hazelwood Cabela's store.
If convicted they face up to 20 years in prison and fines up to $250,000.