This is an archived article and the information in the article may be outdated. Please look at the time stamp on the story to see when it was last updated.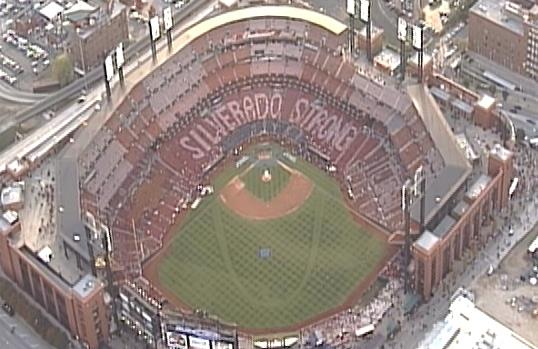 ST. LOUIS, MO (KTVI) – Bommarito Automotive SkyFOX helicopter caught this image of Busch Stadium just before game 5 of the 2013 World Series in St. Louis. Some of the seats in the Cardinals roost have been turned white. They now spell the words, "Silverado Strong." It is part of the release of the 2014 Chevy Silverado. You can watch the commercial for the truck here.
Major League Baseball has posted the details of this Chevy promotion in St. Louis to their website, "Leading into the top of the 3rd, Ozzie Smith will recognize Chevrolet's commitment to growing youth baseball in a video played on the scoreboard. He will prompt fans in attendance to hold up placards in front of them, which will unveil an image of the words "Silverado Strong," Chevrolet's theme for the launch of the all-new 2014 Silverado, with the Chevrolet and MLB silhouetted batter logos on either side."
This is a strange promotion to do in St. Louis. The "Boston Strong" motto is at home in Boston.  The city adopted it after the Boston Marathon Bombings.
Last week a group calling itself "Cardinals Nation" on facebook started selling t-shirts with the motto, "St. Louis Stronger." The controversial motto angered Cardinal and Boston fans alike. The group eventually took down their facebook posts and t-shirt promotions.
More from Major League Baseball.
Related: Is "St. Louis Stronger" in bad taste? Fan in Boston wants it taken down