This is an archived article and the information in the article may be outdated. Please look at the time stamp on the story to see when it was last updated.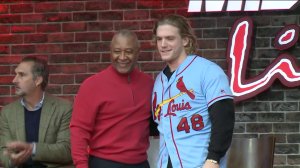 ST. LOUIS, Mo. — The Cardinals are making a big deal about a new blue jersey.  The "victory blue" road alternate jerseys are a throwback and a modern twist on the team's iconic look.  Players will wear them during select Saturday road games starting with the 2019 season. Ozzie Smith was at Ballpark Village to introduce fans to the new uniforms.
The road alternate uniform will debut on Saturday, March 30th at Milwaukee, and will be worn only on Saturday dates away from Busch Stadium. Similar to the team's first Saturday alternate unveiled before the 2013 season, the front of the Power Blue jersey features "St. Louis" in script along with the player's number. The jersey and matching pants have red piping and will be complemented with players wearing a red hat.
The Cardinals said that they were going to make a big announcement Monday.  A tweet from the team offered some "powder blue" clues. The Cardinals tweeted out the iconic Ozzie Smith photo from the 1985 World Series doing his poplar backflip flip. The tweet only said, "A big announcement is coming soon, you`re gonna flip."  That doesn`t say a lot, but the color of his jersey does. Many anxious fans are eyeing the blue jersey in the photo and believe the powder blue gear could be making comeback.
Here`s a little history about power blue jerseys and its possible comeback.   The Cubs started the trend back in the 1940s, but they shelved it after 2 years. Skip ahead to 1976, that`s when the cards picked up on the trend and held it for nine years. More recently, the cards wore them last year in Seattle as a throwback.
A fan page caught on that Ozzie Smith`s iconic photo is actually photoshopped blue so that could be an even more clear indication.   The big announcement came at 11am at Ballpark Village.
Watch the press conference here:
— St. Louis Cardinals (@Cardinals) November 19, 2018
👀 A big announcement is coming soon… you're gonna flip! pic.twitter.com/DUKnOmbzTB

— St. Louis Cardinals (@Cardinals) November 9, 2018
The original picture vs. the one the Cardinals tweeted out regarding the "big announcement".

They photoshopped it to make the uniform powder blue.

The powder blues are back, folks. pic.twitter.com/L5SjjmfmVy

— Cardinals Rant (@CardinalsRant_) November 10, 2018