This is an archived article and the information in the article may be outdated. Please look at the time stamp on the story to see when it was last updated.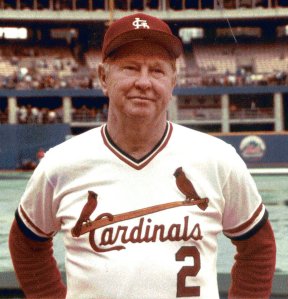 ST. LOUIS – Cardinal great Red Schoendienst passed away Wednesday at the age of 95.
The news was broken to Cardinal Nation by former Cardinals and KMOX Cardinals announcer Mike Shannon.
Schoendienst was born in Germantown Illinois, just 40 miles from downtown St. Louis. He was one of seven children.
Early on he showed promise as a baseball player. But in 1939 he suffered an injury to his left eye and was forced to become a switch-hitter batting left-handed.
He was signed by the Cardinals in 1942 after a tryout for $75 a month.
Schoendienst played minor league baseball during World War II and was drafted. However, he was given a medical discharged due to the injury to his left eye.  In 1945 he moved to the big league playing for the Cardinals as left fielder and second baseman.  He played with the Cardinals until he was traded in 1956 to the New York Giant and Milwaukee Braves.
He returned to the Cardinals in 1961 playing till 1963.
After Cardinals World Series win against the New York Yankees in 1964, Schoendienst was elevated to manager.  He managed the Cardinals for over 12 seasons.  He was part of 5 World Series wins for the Cardinals.
In 1989 he was elected to the Baseball Hall of Fame and was inducted into the St. Louis Cardinals Hall of Fame Museum in 2014.
Schoendienst was the oldest living Baseball Hall of Famer at the time of his death.
We will miss you #2. Stan is waiting to see his best friend and roomie. Ironically Red passed on June 6th. Never a coincidence with those two. We lost another great but what an amazing life he lived. pic.twitter.com/8nUzTOpibK

— Stan Musial (@stanthemaninc) June 7, 2018
Red

A gem of a guy.#RIPRed pic.twitter.com/hmexatstyG

— Randi Naughton (@RandiNaughton) June 7, 2018
It was a privilege to know and learn from one of baseball's best, Red Schoendienst. Truly one of the greatest mentors in the game. He always made time for me and I will cherish the great times we spent together. My thoughts and prayers are with him and his family. pic.twitter.com/c3UDDBx3lF

— Albert Pujols (@PujolsFive) June 7, 2018


https://www.scribd.com/document/381225977/Commissioner-s-Statement-Re-Red-Schoendienst-060618