This is an archived article and the information in the article may be outdated. Please look at the time stamp on the story to see when it was last updated.
ST. LOUIS – Missouri State Senator Maria Chappelle-Nadal faces major backlash after posting—then later deleting—a Facebook comment saying she hoped President Trump would be assassinated.
The Secret Service is now investigating her.
The state senator's comments came around midnight in an exchange with a person named Christopher Gagne. The post was deleted by the morning, but the screengrab had been saved and shared.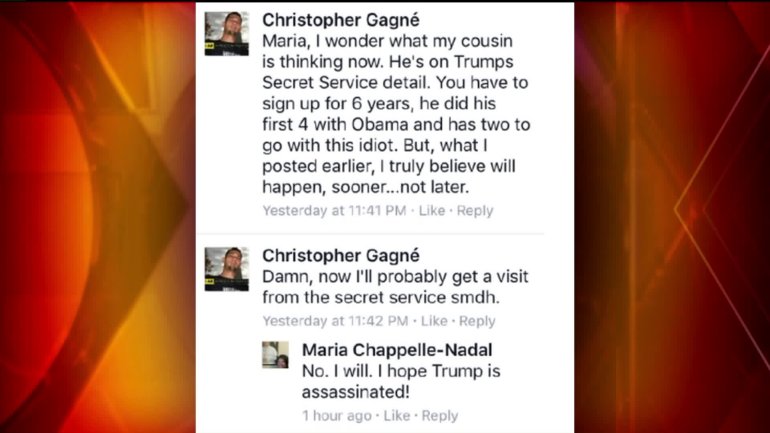 In a statement to our news partners at the St. Louis Post-Dispatch, Chapelle-Nadal said, "I didn't mean what I put up. Absolutely not. I was very frustrated…Things have got to change."
She later wrote, "I put that up on my personal Facebook and I should not have."
As colleagues heard about the post, calls for her resignation echoed from Jefferson City to Washington D.C., but Chappelle-Nadal said she isn't going anywhere.
"No. Absolutely not. I told people if there are legislators cheating on their wives and smoking marijuana in their offices and they're not being asked to resign, but I am for a mistake I made and owned up to," she said.
However, she specifically told Fox 2 News reporter Chris Hayes that she is not apologizing for her remarks.
"To call for the assassination of a United States President is unprecedented and it's completely wrong," said State Rep. Joshua Peters. "It's disgusting and I'm calling on her to step aside immediately."
Peters has already written to President Pro Tem of the Senate Ron Richard, asking for the immediate investigation and expulsion of Nadal.
"That's where we draw the line, bringing disgrace to our state, the general assembly," Peters said. "Again, we disagree on policies, we don't disagree with someone and ask for them to be assassinated, that's ridiculous. Who does that?"
Meanwhile, the head of the Missouri State Senate Democratic Caucus, Gina Walsh, quickly came out against the statement.
"I strongly condemn and disavow Senator Nadal's horrible comments. Promoting, supporting, or suggesting violence against anyone, especially our elected leaders, is never acceptable," Walsh said.
Democratic political consultant Mike Kelley, who appears on Fox 2 News program 'Hancock & Kelley,' said he's furious with her post.
"It's disgusting, inexcusable dialogue," he said. "She deserves whatever consequences come from it."
His cohort on the program, Republican consultant John Hancock, said Chappelle-Nadal should face a swift rebuke and leave office.
"She should be—at a minimum—censured by the general assembly. I think she should resign," Hancock said. "You just don't do that. Just don't make those kind of comments."
Kristina Schmidt, Special Agents in Charge of the U.S. Secret Service's field office in St. Louis, said the organization was investigating the matter and they take every statement about the president's safety seriously.
From Washington D.C., Democratic Congressman Lacy Clay and Senator Claire McCaskill both condemned Chappelle-Nadal and called on her to resign immediately.
Still she won't apologize until President Trump apologizes for some of the comments he has made.
"When the president apologizes for calling women the things that he does, I will apologize," Chappelle-Nadal said.  "When he apologizes for all of the statements he's said on behalf of white supremacists and the KKK and neo-Nazis; when he apologizes, I'll apologize. But I'm owning up to my mistake, which is something this president is unwilling to do."