This is an archived article and the information in the article may be outdated. Please look at the time stamp on the story to see when it was last updated.
ST. LOUIS, MO (KTVI)– A 29-year-old man is charged in Illinois with obstruction of justice. The arrest is linked to the April 27th pedestrian hit and run near the Broadway Oyster Bar.
Amber Wood, 23, was crossing the street on South Broadway when she was hit by a car that witnesses say was speeding.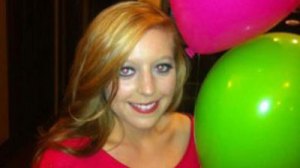 The driver fled the scene, but the car police believe was involved in the accident, a 2002 Pontiac Grand Prix, was found a few days later at a scrap yard in Madison County, Illinois.
Prosecutors in Illinois say Eric Petersen is the owner of that car.
They say by taking the car to a scrap yard, he knowingly concealed physical evidence with the intent to obstruct the prosecution of the driver of the Pontiac.
Petersen had been in St. Louis police custody last week. Police are seeking manslaughter charges in the case.
A spokesman from Circuit Attorney Jennifer Joyce's office confirmed that hit and run charges are still under review, but no decision has been made yet.
Petersen is being held on $35,000 bond.
Woman Killed In Hit and Run Accident In Downtown St. Louis