This is an archived article and the information in the article may be outdated. Please look at the time stamp on the story to see when it was last updated.
JENNINGS, MO (KTVI) - A Jennings woman was killed overnight allegedly by her boyfriend with her two kids in the home.  This morning, authorities say the boyfriend has turned himself in.  Late Wednesday afternoon, Calvin Campbell was charged with Murder in the Second Degree and Armed Criminal Action.
The victim has been identified as Sophia Moore, 28.  Investigators say it was a domestic dispute that turned deadly.  It happened in the 9400 block of Dawn Court just before 10 p.m. Tuesday night.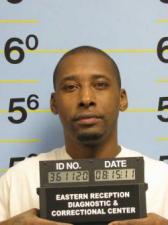 According to police, the Calvin Campbell, 32 suspect got into an argument with Moore who lived at the home with her two children. Moore had kicked the man out of the house about a week ago and he returned Tuesday night.
Police say when the suspect entered the home, he punched Moore repeatedly.  She tried to climb out a kitchen window, but the suspect got a knife and stabbed her multiple times.  She died at the scene.
Moore's two young children, ages 8 and 9, were in the home at the time. Authorities say they saw what happened and ran next door for help.
The suspect initially left the scene but investigators say they were able to contact him on the phone and convinced him to turn himself in.  He surrendered at the police station in Jennings around 1:30 a.m. Wednesday.
Authorities say the  suspect is not the children's father. Calvin Campbell has been charged with 2nd degree murder and armed criminal action.