This is an archived article and the information in the article may be outdated. Please look at the time stamp on the story to see when it was last updated.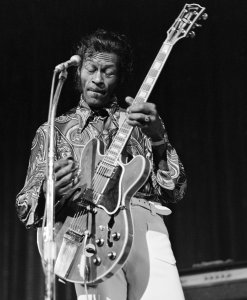 ST. LOUIS (AP) _ Fans mourning Chuck Berry's death can look forward to an album of mostly new material expected this year.
The 90-year-old Berry died Saturday at his home near St. Louis. Berry's songs include the classics "Johnny B. Goode" and "Roll Over Beethoven."
Friend Joe Edwards says he's heard the new album Berry announced in October. Edwards calls it "sensational."
Edwards owns the St. Louis club where Berry performed regularly and says he'll miss his friend tremendously. The first single off the new album was scheduled before Berry's death to be released in the next few weeks.
Funeral arrangements hadn't been announced Sunday. One of Berry's representatives, Matt Hanks, said he didn't have any new information about the release plans for the "Chuck" album.