This is an archived article and the information in the article may be outdated. Please look at the time stamp on the story to see when it was last updated.
FERGUSON, MO (KTVI) – Protests continue in the City of Ferguson as members of the community continue to voice their outrage over the police-involved shooting of an unarmed 18-year-old.
Community members continued to gather and chant in preparation for an 8pm vigil for Mike Brown who was shot and killed Saturday night during an altercation with a Ferguson police officer.
There are reports that the crowd was becoming unruly Sunday evening.  Witnesses tweeted photos and video of people blocking emergency vehicles responding to a medical emergency.
There are also reports on Twitter that St. Louis Alderman Anotino French intervened when a crowd of people tried to pull a white tow truck driver from his truck.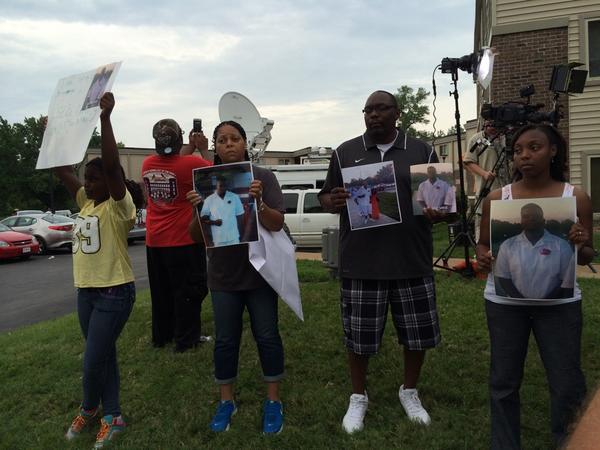 Earlier Sunday, members of the St. Louis Clergy Coalition held a prayer vigil outside the Ferguson Police Department.  Ministers prayed for the family of Michael Brown who was shot and killed Saturday during an encounter with a Ferguson police officer.
The group is circulating a petition calling for a dialogue between Ferguson police clergy citizens and elected officials to address the death of Michael Brown and rebuild mutual trust and respect.
The 8 p.m. vigil will take place in the Canfield Green apartment complex where Brown died.
The Associated Press reports the Reverend Al Sharpton will meet with the family of Mike Brown on Monday or Tuesday.
He released this statement on Sunday:
Sunday, August 10, 2014 (New York, NY)—
"I just spoke with Leslie McSpadden, the grandfather of Michael Brown. He has asked me to come to St. Louis in light of the police killing of his grandson to assist the family in achieving a fair investigation and justice. I assured him that National Action Network will stand with the family, as we have done for families around the country and assist in any way that we can. I am dispatching Rev. De-Ves Toon of our National Action Network field department to St. Louis immediately to prepare for my visit, and to work with groups in the area as we pursue justice in the tradition of Dr. Martin Luther King, Jr."
-Reverend Al Sharpton, President of National Action Network
People are blocking police and fire trucks from entering the area. Reportedly answering a call for a heart … https://t.co/B4jROKuvud

— Antonio French (@AntonioFrench) August 10, 2014
Follow Betsey Bruce on Facebook and Twitter:
Betsey.Bruce@tvstl.com
On Facebook  Betsey Bruce on FOX2  
Twitter  Betsey Bruce