This is an archived article and the information in the article may be outdated. Please look at the time stamp on the story to see when it was last updated.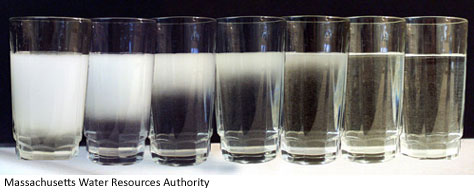 ST. LOUIS, MO (KTVI) - Notice anything odd about the tap water? Missouri American Water has issued a cloudy water alert in St. Louis and St. Charles counties. They say the cloudy water is not a health concern. It is caused by tiny oxygen bubbles dissolved in the water that create a cloudy appearance.
Missouri American says this happens during most winters. They say this is because cold water holds more oxygen. In the winter, water travels from the reservoir which is very cold and warms up during its travel to your tap. Some of the air that is present is no longer soluble, and comes out of solution. As the water warms up the bubbles come out of solution.
The cloudiness may also be caused by pressurized water travelling through pipes. The water needs to be under pressure to travel from the water tower to your home. This water holds more air than water that is not pressurized. Once the water comes out of your tap, the water is no longer under pressure and the air comes out of solution as bubbles
Whatever the cause, the cloudiness usually clears up after a few minutes in a glass. The best thing to do is let it sit in an open container until the bubbles naturally disappear. It is completely harmless.