This is an archived article and the information in the article may be outdated. Please look at the time stamp on the story to see when it was last updated.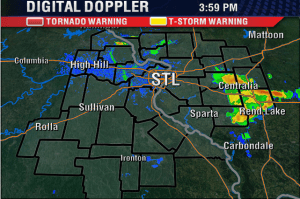 (KTVI) – The cold front is starting to make its way across the viewing area at 4 p.m. from the northwest.  The spotty storms that kicked up early/mid afternoon are moving away to the east, but there is still a risk of a couple of small thunderstorms with the front through about 9 p.m., so keep an eye to the sky.
Temps have cooled into the lower 80s due to the earlier storms and they will hold there through about 8 p.m. before falling to near 70 for an overnight low.  All storms are gone before midnight and the Labor Day weather still looks fantastic.
Check our interactive radar for updates.
Get a FOX 2 app for your device: