This is an archived article and the information in the article may be outdated. Please look at the time stamp on the story to see when it was last updated.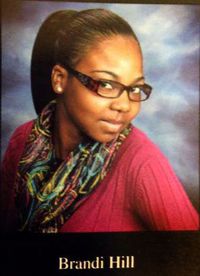 ST. LOUIS, MO (KTVI)- The suspect wanted for murdering a 21-year-old St. Charles County mother during a carjacking in downtown St. Louis was shot and killed by police. According to our partners at the St. Louis Post-Dispatch, he has been identified as 21-year-old Devonte Gates, of Brooklyn, Illinois.
Illinois State Police say Gates was shot and killed by law enforcement officers; two U.S. Marshals and a Caseyville police officer in Washington Park Thursday. Members of a Fugitive Task Force received word that he was in the area.
Gates was also wanted in connection with a separate fatal shooting on 20th Street and Ridge Avenue in East St. Louis in April. He had been on the run since Brandi Hill's deadly shooting Sunday evening.
Hill's 9-month-old daughter was found abandoned but not hurt, a short time later.
The other suspect wanted in connection to Hill's murder turned himself in to authorities Tuesday. Ross Randolph, 19, is being charged with first degree murder, kidnapping, robbery, armed criminal action and endangering the welfare of a child.
Previous coverage: Woman found shot to death on Washington Avenue; two suspects at large
Pair wanted in downtown carjacking, murder of O'Fallon mother
Suspect in custody in Washington Avenue shooting death
Belleville teen charged with murder of woman on Washington Ave
Suspect in fatal carjacking killed in officer-involved shooting in Washington Park