This is an archived article and the information in the article may be outdated. Please look at the time stamp on the story to see when it was last updated.
ST. LOUIS, MO (KTVI)-- A man is charged for allegedly holding a gun to his ex-girlfriend's head during a domestic dispute on a school parking lot.
Adrian Gore, 32, was charged with domestic assault, armed criminal action and unlawful possession of a firearm.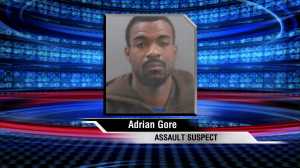 Around 7:30 am Wednesday, St. Louis police were called to the scene of an attempted shooting inside of the parking lot of Preclarus Master Academy on North Grand Boulevard.
According to police a 35-year-old female teacher had a domestic dispute with an ex-boyfriend that spilled over into the school parking lot. Police say Gore allegedly got into the victim's car and held a gun to her head. He tried to shoot, but the gun jammed. Then he hit the victim in the head. She was able to escape and call for help.
"This was a targeted attack, it wasn't a miscellaneous act of violence," said Daryl McAdoo with Preclarus Master Academy. "Workers immediately responded and called 911 and alerted security. The guy did flee after seeing two other people on out there. The cops were able to apprehend him soon after."
"It was kinda destroyed about what happened to her," said parent Alea Carpenter. "She's a really good person. I know her, like her and we love her. I'm shook up about what happened to her."
The school had an assembly and explained the situation to the kids. They also sent home letters with the kids to inform parents. No students were hurt.  The names of the victim and suspect have not been released.
The school says the teacher is in the process of recovering so she can get back to teaching her 5th grade class.