This is an archived article and the information in the article may be outdated. Please look at the time stamp on the story to see when it was last updated.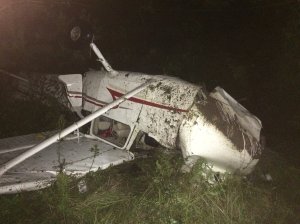 CHESTERFIELD, MO (KTVI) – The FAA is investigating an overnight plane crash in Chesterfield.
Emergency services from law enforcement and surrounding fire departments rushed to Spirit of St. Louis Airport Sunday night at 8 p.m. after a report of a plane down.
Authorities believe the pilot was conducting "touch and go" exercises when he crashed.
The pilot was injured, but able to call for help.  Initially, first responders thought the pilot may have gone down on Howell Island in the Missouri River. But using cell phone pings, emergency crews located the pilot and wreckage just after 10 p.m., about 100 yards from the western most building on the airfield.
The plane was upside down with a wing detached.
The pilot's name has not been released.