This is an archived article and the information in the article may be outdated. Please look at the time stamp on the story to see when it was last updated.
[protected-iframe id="9d8f3fd411bd633701a4b2dbb68ce941-29519413-15158773″ info="http://livestream.com/accounts/5043794/events/4875120/videos/114042502/player?width=770&height=433&autoPlay=false&mute=false" width="770″ height="433″ frameborder="0″ scrolling="no"]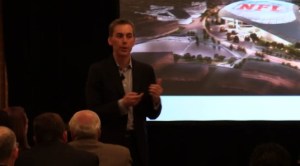 LOS ANGELES, CA – Rams Chief Operating Officer Kevin Demoff gave a speech on March 1st to his high school about moving the Rams back to Los Angeles. He told a room at Harvard Westlake school about the process. Some football fans are shocked that he was happy with a losing season.
At about a half hour into the video Demoff says:
"All of the sudden, things were coming up pretty quickly. A relocation application was due the first week in January.

Either thankfully, or not thankfully we went on a four game losing streak in the middle of November. So, we went from being in the playoff hunt and having a seed to out of the playoff hunt. That allowed us to have more time to talk about this, to put things together."
Team executive Kevin Demoff said the Rams decided to move back to Los Angeles before the 2014 season. He said the franchise's official announcement on Jan. 12 "was two-and-half years in the making."
The high school has deleted the video from their Livestream page on March 14th.
https://twitter.com/ScotRuggles/status/705193600242462720
This is an excerpt from a column written by Tim McKernan on InsideSTL.com:
Have you ever heard an executive, coach, or player express gratitude for a four-game losing streak for his or her team?

Well, if you haven't you don't know the Rams.

And it sure would be quite appreciated if the rest of the country would start getting hip to what took place in St. Louis with this operation as opposed to just lazily labeling St. Louis as a bad football town. As the latest example of the farce that was the Rams' commitment to a) St. Louis and b) winning while in St. Louis…one of the team's top executives expressed gratitude over the team falling out of the playoff race in November.
Even for the NFL it's astonishing that a Team COO would say to a group of people "thankfully" we went on a 4-game losing streak. Classless.

— Charlie Marlow (@CharlieMarlow_) March 14, 2016
Kevin Demoff: "Thankfully or Not Thankfully" The Rams Went On A 4 Game Losing Streak https://t.co/O3nrR158Sl

— Tim McKernan (@tmckernan) March 14, 2016