This is an archived article and the information in the article may be outdated. Please look at the time stamp on the story to see when it was last updated.
ST. LOUIS – FBI Assistant Special Agent in Charge Alicia Corder and special agent/recruiting coordinator Siobhan Johnson took decidedly different paths to work for the bureau. Corder was an attorney before joining the FBI in 2003. She recently became FBI St. Louis' first female executive.
"I have a pretty equal background between counterterrorism and criminal work," Corder said.
Johnson attended Washington University in St. Louis. Her areas of study – East Asian Studies and ballet.
"...That's right. I know it's an unusual combination, but surprisingly it has come in handy so many times, it's ridiculous," said Johnson.
Their stories highlight the wide-ranging talent pool the FBI targets.
"I think there's a misconception that you have to be prior military or law enforcement to do this work and it's just not true. We come from all walks," Corder said.
Johnson said the agency needs folks from all backgrounds to investigate "a diverse set of crimes.
"If we had all the same type of person, we really wouldn't be able to be as effective as we are today," Johnson said.
That need is the driving force behind the FBI's Diversity Agent Recruitment Program.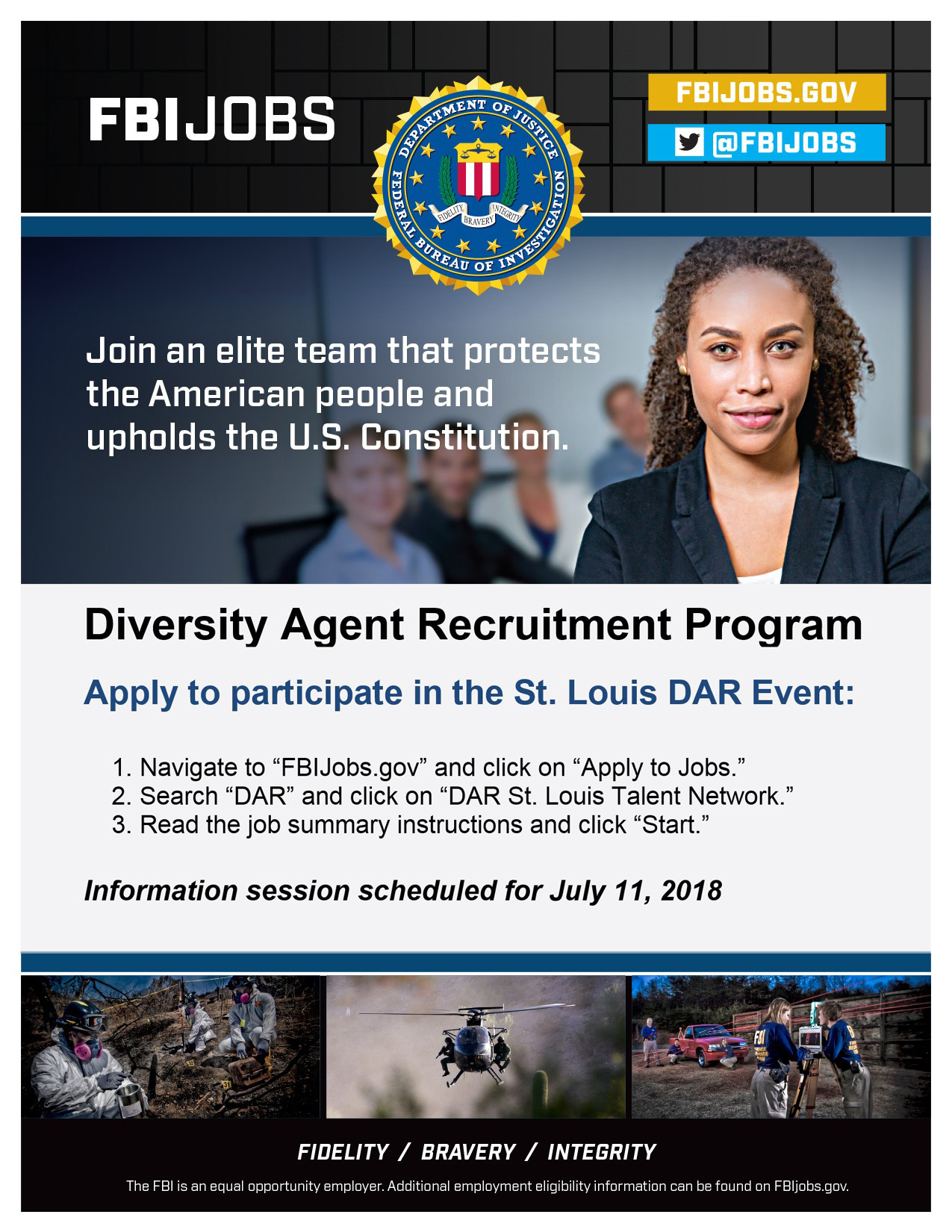 "We want to get to the young people and educate them on what the requirements are to become an agent—what is the process to become an agent—and to be clear that they can do it," Corder said.
You must apply online to be selected to take part in the St. Louis recruitment event.
Visit fbijobs.gov and click on the 'Apply for Jobs' button. From there, search "DAR" and click on the DAR St. Louis Talent Network. Then read the job summary instructions and click start.
The FBI will review your profile and resume before deciding to issue you an invitation to the information session on July 11.
"Diversity is extremely important to the work we do. It's critical to our effectiveness and to getting the mission done," Corder said.
"If you're thinking 'maybe the FBI is for me, but I don't know,' I would absolutely encourage everybody to come out to this event," Johnson said.