This is an archived article and the information in the article may be outdated. Please look at the time stamp on the story to see when it was last updated.
ST. LOUIS, MO (KTVI) - Thousands of motorists a day pass in front of the what was the Air National Guard Base at Lambert Airport. The fighter pilots and most of the other personnel from what was the 131 Fighter Wing were moved years ago to Whiteman Air Force Base in western Missouri as part of massive military base reduction. But the fighter planes on display out front could still be seen, all that was left of that unit.
On Friday, the second of those jets, an F-100, was taken down and loaded onto  a flatbed truck and will be moved to Whiteman.   It will be be part of tourist attraction there.
Chief Master Sergeant John Morrissey, who's been at the Air Guard base 23 years, said, "It is a sad day to see them go. But, I know that they're not gone and going to the bone yard. They're still part of our history but just at another location."
The F-4 Phantom was taken down from its pedestal earlier in the week. All that remains, an F-15 in front, which will moved early next week. The move will cost about $125,000
Lambert Airport spokesperson Jeff Lea said, "We have a very strong link with the military and Lambert's history. Certainly losing those planes you might forget that link once they're gone."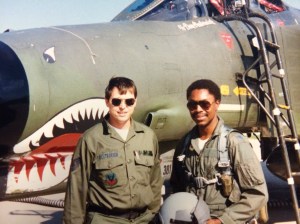 In 1986, Elliott Davis flew with a trio of F-4 Phantom jets from the Missouri Air National Guard unit.  His story was demonstrating the importance of the unit to the nation's defense. He calls it a "flight I'll never forget."