This is an archived article and the information in the article may be outdated. Please look at the time stamp on the story to see when it was last updated.
ST. CLAIR, MO (KTVI) – A fire damaged the St. Clair Historical Museum late Sunday night.  The fire started around 9 p.m. No one was inside the building or hurt during the fire.
The building was built in 1899, but by morning it was charred.  The museum was home to Indian artifacts, clothing from the Victorian Era and a Black History Month display.
The building is charred and it is unclear if any items are salvageable.  Lee West donated several things to the museum.
"They were literally irreplaceable things that have left me speechless," West said. "It's a sad day."
West said videos of St. Clair residents telling stories about the area were likely among
the destroyed items.
"The good thing is I have the originals, so that it not lost," West said.  The museum is
considered a landmark by many in the area.  Bonnie Porter used to work at the museum.
"I enjoyed seeing people come there from far away to see the museum," Porter said. "I will miss it."
The Historical Society runs the museum.
It was filled with people just hours before the fire. They were viewing the special Black History Month Display.
St. Clair Historical Museum Facebook Page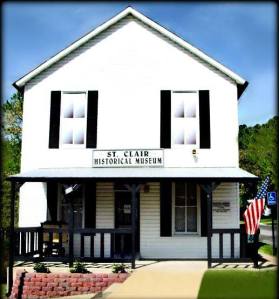 [googlemaps https://maps.google.com/maps/embed?pb=!1m14!1m8!1m3!1d3129.0959240289976!2d-90.9830257!3d38.346761799999996!3m2!1i1024!2i768!4f13.1!3m3!1m2!1s0x87d94229b36d0697%3A0xfdf75d461fbb8a49!2s284+Hibbard+St!5e0!3m2!1sen!2sus!4v1393217474445&w=600&h=450]