This is an archived article and the information in the article may be outdated. Please look at the time stamp on the story to see when it was last updated.
SOUTH ST. LOUIS, MO (KTVI)-The
St. Louis Fire Department
was out in force Saturday conducting a smoke alarm battery blitz.  Firefighters and volunteers from Energizer went door-to-door and part of the "Change Your Clock, Change Your Battery" program.
Crews installed batteries in residential smoke alarms.  Changing smoke alarm batteries at least once a year is one of the most effective ways to reduce tragic fire deaths and injuries. Additionally, test smoke alarms at least monthly.
The St. Louis Fire Department also hosted a safety fair at the Schnucks supermarket on Hampton and Gravois.  2012 was a special year for the "Change Your Clock, Change Your Battery" fire-safety blitz.
"Twenty-five years ago, Energizer partnered with Atlanta and St. Louis to kick this program off," explained Captain David Neighbors.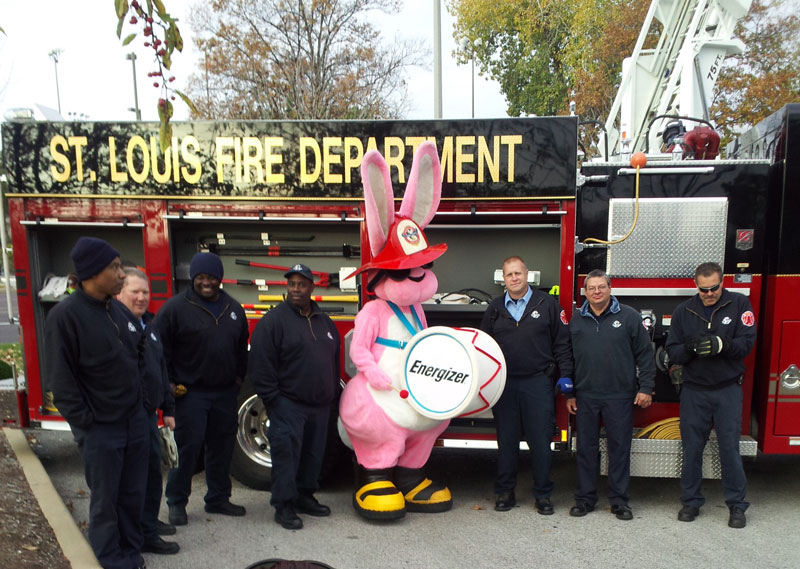 Volunteers gathered for a mission to get working smoke and carbon-monoxide detectors in every home.  Captain Neighbors said the smoke alarms can buy a sleeping family three minutes to get out of their burning house.
"So, it gives them the three minutes early warning that they wouldn't have if the smoke detector was not there."
Kids took some time to crawl through the Safe House, with blinding -- but simulated -- smoke inside.
"The kids are the best reminders for their families," Energizer's Samantha Fisher pointed out.  "They're the ones that are going to go home and tell their mom and dad and say, 'We need to have working batteries in our smoke detectors.'"
Volunteers then boarded a bus for a "Bunny Brigade" briefing at South City's Engine House 4.  Residents never saw the blitz coming.
"Well, it can be a little bit overwhelming," Captain Neighbors chuckled.  "When we come, it is usually for something bad happening.  This time, it is something good."
"It just takes a few minutes, and it's a precaution that could really make your family and your home safe to Change Your Clock, Change your Battery," Fisher said.
Firefighters often say the best fire rescue is the one when they pull up and everyone in the home is already on the curb.
"It's much easier," Captain Neighbors pointed out.  "We can go to work, and do what we normally do on a daily basis when we know that family is sitting on the curb -- safe."
So, the brigade marched on to blitz another neighborhood – this time in North City.
If you need a smoke detector, the fire department will install one.  Just call (314) 533-3406.
Friend me on Facebook:  facebook.com/KimHudsonTV
Follow me on Twitter: twitter.com/kimhudsontv
Email me:  kim.hudson@tvstl.com