This is an archived article and the information in the article may be outdated. Please look at the time stamp on the story to see when it was last updated.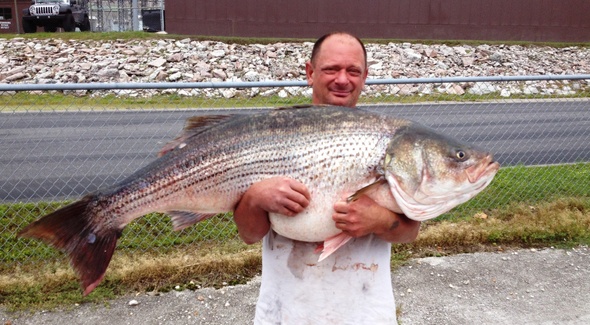 TANEY COUNTY, MO (KTVI) – A Rockaway Beach man set a new state record after hauling in a massive striped bass at Bulls Shoals Lake last week.
Lawrence Dillman said he fought for over 45 minutes reeling the large fish into shallow water. Dillman wrapped his arms around the fish and pulled it onto the bank.
The striped bass was weighed at a certified scale at the Missouri Department of Conservation scale at the Shepherd of the Hills Hatchery in Taney County. The fish weighed in at 65 pounds, 2 ounces, with a length of 49-and three-quarter inches and a girth of 36 inches.
The previous state record fish—60 pounds, 9 ounces—was also caught at Bull Shoals Lake, in 2011.
Dillman said he's having the fish mounted at the Bass Pro Shop in Springfield.
Fish caught in Missouri are measured and weighed in two categories: pole-and-line and alternative methods. Such methods include, but are not limited to: archery, bank lines, grabbing, jug lines, snaring, spearfishing, and throwlines.
For more information on state-record fish, visit the Missouri Department of Conservation website.