This is an archived article and the information in the article may be outdated. Please look at the time stamp on the story to see when it was last updated.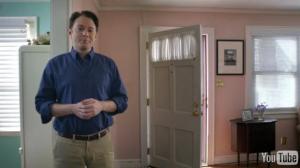 (CNN) — Singer Clay Aiken of "American Idol" fame is running for Congress.
Aiken announced early Wednesday that he'll seek the Democratic nomination to challenge Republican Rep. Renee Ellmers in North Carolina's second congressional district.
In a video put up on his campaign website, Aiken criticized the partisanship that smothers Congress, saying "I am not a politician. I never want to be one. But I do want to bring back, at least to my corner of North Carolina, the idea that someone can go to Washington to represent all the people, whether they voted for you or not."
Aiken also highlighted his personal story, sharing that he grew up in a home torn apart by domestic violence, and how that inspired him to be a voice for the powerless. And he touted his work as a special education teacher for students with autism.
"The years I spent as a special education teacher for students with autism was my first window into the difference that a person can make in someone's life," Aiken said.
Aiken said he was fortunate to find success in the entertainment industry, but cautioned that "for most Americans, there are no golden tickets. At least not like the kind you see on TV. More families are struggling today than at any time in our history. And here in North Carolina, we've suffered more than our share of pain."
He also took a shot at Ellmers, criticizing her votes on the government shutdown and funding for the military, which is extremely important in a district that neighbors Fort Bragg, one of the largest U.S. Army bases in the country.
Aiken said that Ellmers went to Washington to "vote against the best interests of North Carolina military families and those who depend on the military for their jobs. To do it when you know it's wrong is even worse."
Aiken, 35, claimed that Ellmers voted the way her party leaders told her to, saying that "in the end, convinced me that if I didn't try and do something about it, then I couldn't complain if no one else did."
Ellmers, when asked about Aiken in a recent radio interview on WMAL in North Carolina, said "currently his performing career is not going so well, and he's very bored."
Aiken, who came out as gay in 2008, gained national attention when he came in second to Ruben Studdard in the second season of American Idol. Aiken joins two other Democrats who have already declared their bids for Congress in the district.
Can Aiken win?
Aiken's celebrity status gives him instant name recognition in the district, where he grew up, and should allow him to raise a lot of campaign cash. But the second congressional district, located in the central and eastern parts of North Carolina, is GOP country. The two-term Ellmers won 56% of the vote in her 2012 re-election, slightly underperforming the GOP presidential nominee Mitt Romney, who beat President Barack Obama 58%-41% in the district.
"I think this will become the highest profile, non-competitive race in the country. If Aiken wasn't running as a Democrat in a Republican district in President Obama's second midterm, he might have a decent shot," Nathan Gonzales, deputy editor of the non-partisan Rothenberg Political Report, told CNN. "Being on American idol doesn't change the fact that he's a Democrat in a Republican district."
David Wasserman, House editor at the Cook Report, another leading non-partisan political handicapper, agreed.
"He will make the race much more interesting, but there is still virtually no chance a Democrat – even a celebrity – can beat a GOP incumbent in such a solidly Republican, gerrymandered seat as long as President Obama's approval ratings are what they are."
A Democrat with deep knowledge of North Carolina politics told CNN Aiken "is loved by a lot of people in North Carolina, and his appeal cuts across party lines after his American Idol run."
"But jumping into politics will change that," said the Democrat, who asked to remain anonymous to speak more freely.
By CNN's Paul Steinhauser and Steve Brusk
CNN Political Editor Mark Preston contributed to this report