This is an archived article and the information in the article may be outdated. Please look at the time stamp on the story to see when it was last updated.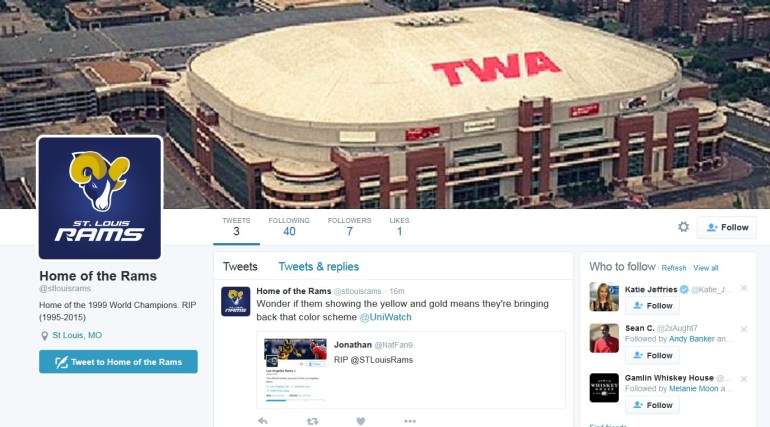 ST. LOUIS (KTVI) – As the Rams franchise transitions to Los Angeles, the team has hurried to rebrand itself and sever the remaining ties with St. Louis. Such measures include changing social media accounts and the like. But in its haste, the team forgot to secure its old Twitter handle.
Enter Ron Bronson, a former Washington University student, who lived in the region during the St. Louis Rams' glory years. Bronson, who now resides in Bloomington, Indiana and makes his living as a digital strategist, worked at Scott Air Force Base from 1998 to 2002. He's admittedly a Jets fan, but was impressed with how well the city embraced the Rams over the years.
"Always thought St. Louis had really great fans," Bronson said.
On a whim, Bronson checked Twitter and saw the @STLouisRams account had last posted a few days ago. When the team switched over to its current account, Bronson checked Google and saw the old account was suddenly available. He claimed it without any trouble.
https://twitter.com/stlouisrams/status/688107936116150272
Sports franchises haven't relocated a whole lot in the Twitter era, Bronson said, so it's easy to see how something like this would slip their minds.
Bronson switched the landscape portrait on the Twitter account to an image of the old TWA Dome (before it became the Edward Jones Dome) and the profile avatar to a fan-made logo.
Bronson said he's not totally sure what he'll do with the account yet, but he's not planning on doing anything malicious with it. And while he was surprised to learn the owner of Rams.com might cash in on owning that URL, Bronson said he doubts anybody would be interested in paying for his new Twitter handle.
He intends to hold onto the account and use it as an example for when he delivers business presentations.
https://twitter.com/stlouisrams/status/688120234771755008