This is an archived article and the information in the article may be outdated. Please look at the time stamp on the story to see when it was last updated.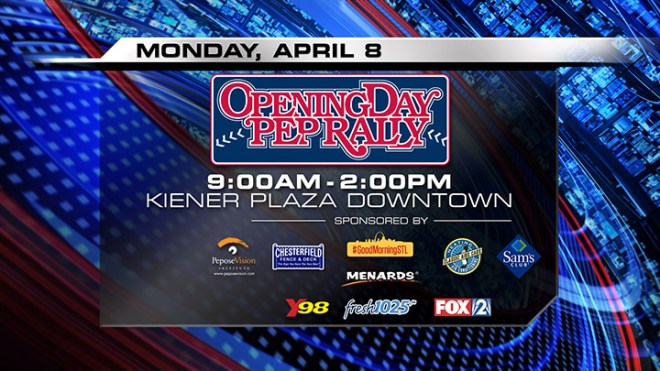 Join Us At Kiener Plaza from 9am – 2pm
ST. LOUIS, MO (KTVI) – As the boys take in their last few warm Florida days in Jupiter, FOX 2 is counting down to the biggest Opening Day party in St. Louis!
Go ahead, take Monday, April 8th off, and help us make Opening Day a Holiday in Kiener Plaza, with live music from My Friend Mike, delicious food and drinks, beer from Show-Me's, Kettle Corn, Missouri Lottery Fast Pitch, Cardinals gear, and tons of giveaways from local businesses, plus, lots of fun games to celebrate the home opener!
We've teamed up with Y98 and Fresh 102.5 to host the BIGGEST opening day rally in downtown St. Louis in Kiener Plaza from 9am – 2pm. Game time is 3:15pm.
[protected-iframe id="3791f022573d95925e51b1139b63ebf2-29519413-15158773″ info="https://maps.google.com/maps?q=601+Market+St,+St+Louis,+Missouri+63102&oe=utf-8&aq=t&client=firefox-a&ie=UTF8&hl=en&geocode=FZxhTQId0Mqf-g&split=0&hq=&hnear=601+Market+St,+St+Louis,+Missouri+63102&t=m&ll=38.627449,-90.189278&spn=0.005867,0.013304&z=16&iwloc=A&output=embed" width="620″ height="350″ frameborder="0″ scrolling="no"]