This is an archived article and the information in the article may be outdated. Please look at the time stamp on the story to see when it was last updated.
ST. LOUIS, MO (KTVI) – Terran Lemar Hubbard was a tall,good looking guy with a sense of humor who loved his family, fiancé, friends and the Los Angeles Lakers. Life was good in the summer of 2011 until I got a call that would change my family forever.  Terran told his family that he was diagnosed with melanoma skin cancer.
Immediately, the family questioned how he got it. As fate would have it, the malignant cancer started underneath a toenail on his right foot. It had never healed correctly after someone accidentally stepped on it at work.
Terran rarely got sick so he didn't worry about it. He waited more than a month before doctors checked it out and gave the bad news.
Suddenly he was in a whirlwind of PET Scans and biopsies. Doctors determined it was stage 3 cancer. The toe was quickly amputated and the fight for survival began. Terran went through a year of intense, weekly chemotherapy treatments. One month after his last treatment, we found out the melanoma had spread to both of his lungs and brain. The cancer was diagnosed as stage 4.
Fifteen months after the initial diagnosis he was gone.  With it, his dreams of a marriage and a future. Terran Hubbard died on October 1, 2012. He was only 34-years-old.
According to skincancer.org one person dies of melanoma every 57 minutes. A statistic Dr. Lynn Cornieius with the Siteman Cancer Center is trying to stop. Dr. Corneilus says the number of African-Americans dying from melanoma or skin cancer is on the rise. When diagnosed, the cancer is often found in the deadliest of stages.
Melanomas among people of color are most often found under nails, palms of hands, and soles of the feet. Dr. Cornelius believes education, early detection, and treatment are key.
"Thirty-six percent of the cancers that occur in the black population are on on these non-sun exposed sites.  It's all about education, not only for the lighter skinned ethnicities. Darker skinned individuals need to know about ultra violet light. In darker palmed people, they get these darker streaks in the nails. They are very common but distinguishing between one that`s new and not so normal is not so easy.  That is difficult for people to know themselves." said Dr. Corneilus
She says there are also a misconceptions about skin cancer in the black community.
"Studies have been done on that subject. The perception of dark skinned individuals is that they don`t have to worry about skin cancer. One consequence of that in persons of color is that skin cancer is diagnosed at a much later stage and at a much more advanced state." she said.
According to the American Cancer Society, one in five Americans will get skin cancer in their lifetime. Warren Gower, 71, is one of them. He`s been battling melanoma for 14 years. The retired Clayton School District math teacher was shocked at his diagnosis. A suspicious spot on his right foot came back and moved to is calf.
"It wasn't a mole…the spot on my heel. There's no sun under my heel." said Gower
Gower didn't know about melanoma and had no knowledge of his family`s medical history. He says sharing information is important.
"Other families might be more open regarding that. But my experience has been that its pretty much a secret. I have an uncle who had prostate cancer and he kept that secret even though he has five sons." he said.
The legacy of Terran Hubbard will live on through his family sharing a story that can hopefully educate, enlighten and help save lives.
Follow Shawndrea Thomas on Facebook..https://www.facebook.com/ShawndreaThomasFOX2
Want to assess your risk of contracting a melanoma?  Take this test from the Washington University's Siteman Cancer Center.
More:
Free Skin Cancer Screening
Siteman Cancer Center at Barnes-Jewish West County Hospital, Medical Office Building 2, 10 Barnes West Drive, Creve Coeur, MO 63141
Overexposure to the sun can have dangerous effects, so what can you do to protect yourself from harmful rays, and what are the warning signs to determine if you already have damage? Come in for a free screening with Washington University Dermatologists at Barnes-Jewish West County Hospital.
For more information, please call 314-542-9378 or 800-392-0936
The event is free, no registration is required. Screenings will be given on a first-come, first-served basis.
Melanonychia
This is a picture of a person with Melanonychia.  The condition appears as benign dark streaks in finger and toe nails.  New streaks should be reported to a physician, as should any subsequent changes. To be clear, this is not melanoma..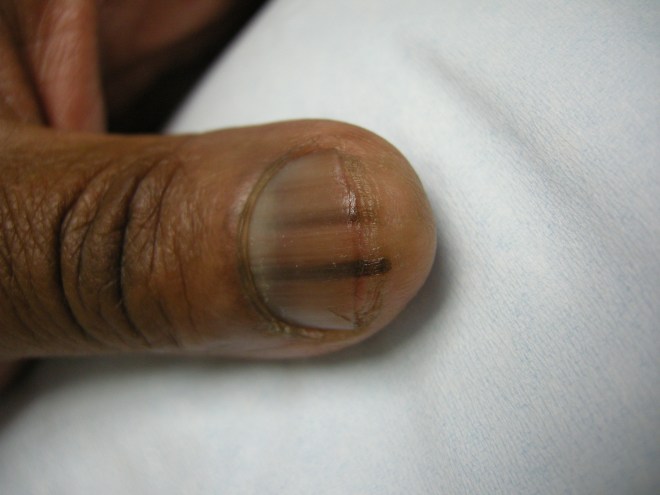 What does melanoma skin cancer look like?
Use the "ABCDE" method to learn about skin cancer. Asymmetry: One half of the mole does not look the same as the other half. Border: The edges are not even or there is a gap in the edge of the mole. Color: The mole has colors in it like black, blue, brown, gray, pink or white. Diameter: It is most often bigger than the size of a pencil eraser (6mm), but early lesions may be smaller. Evolving: A pigmented lesion or mole that is changing.
Melanoma may also occur in the pigmented cells of the eye. Melanoma on the inner surface of the eyelid or on areas of the eye that can be seen may be diagnosed early. This often looks like brown patches. When the melanoma is deep in the eye it is often found at a later stage. In some cases a patient may have changes in vision and it is often found during an eye exam. See your doctor of dermatologist, or eye doctor if you notice any of these changes.

Asymmetry - One half of the mole does not look the same as the other half

Color - It has colors in or around it like, black, blue, brown, gray, pink, red or white.

Evolving - A pigmented lesion or mole is changing

Evolving - A pigmented lesion or mole is changing

Diameter: It is most often bigger than the size of a pencil eraser (6mm) but lesions may be smaller