This is an archived article and the information in the article may be outdated. Please look at the time stamp on the story to see when it was last updated.
ST. LOUIS, MO (KTVI) – Some addicts don't need to buy a heroin high off the streets.  Two lawyers claim their client obtained potentially lethal doses by visiting his doctor.
Attorneys John Simon and Tim Cronin recently won a $17.6 million lawsuit for a man hooked on legally prescribed opiate pain pills.
Court records indicate the daily dose for one man rose from about six pills a day in 2008 to an average of almost 40 pills daily in 2012.  The milligram equivalent in 2012 was more than 1,500 milligrams per day.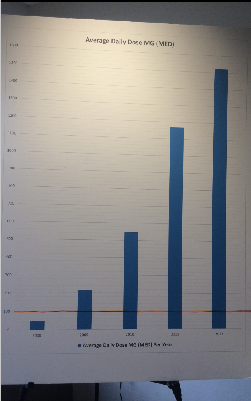 "This chart illustrates the rising milligram doses for one patient over the course of five years.  The red line on this graph indicates the daily recommended guideline, as found in medical records by attorneys Simon and Cronin.")
John Simon said, "Just the sheer number of pills he was given should`ve opened somebody`s eyes."
The prescribing doctor was Henry Walden.
I asked Simon, "Do you think the doctor knew how much he was prescribing?"  He answered, "He certainly should have."
The attorneys say their client is lucky he survived.  Simon said, "420,000 emergency room visits in one year related to prescription opiate pain killers. That`s staggering."
Cronin added, "It`s legal heroin that doctors can prescribe.  It affects the brain in the same way."
Their client did not want to talk publicly, but the attorneys said he wants more than the judgment.  They say he wants to stop an epidemic.
Cronin said even a pharmacy seemed to detect a problem.  He explained, "A pharmacy that called and said we will not fill this prescription.  What we learned was that Dr. Walden wrote a new prescription out and gave it to Brian and sent him to another pharmacy."
Simon and Cronin said their client finally figured out the pills he was taking for back pain were ruining his life.  He sought treatment, got clean and took legal action.
Dr. Walden did not want to talk, but his employer, St. Louis University Medical Center gave the following response.
"The health and well-being of our patients is always our highest priority, and our physicians are deeply committed to providing compassionate, quality care. We are very disappointed in the verdict in this case, and we will pursue all avenues for review of the decision."  Nancy Solomon, Communications Director.