This is an archived article and the information in the article may be outdated. Please look at the time stamp on the story to see when it was last updated.
ST. LOUIS (KTVI) – The death of Pam Hupp's Mom, Shirley Neumann, remains a mysterious case three years later. St. Louis County Police Detectives have reopened it for review now that Pam Hupp is charged with murdering a man with disabilities. Hupp was the last person reported to see her mom alive in the fall of 2013.
A retired homicide detective sergeant who reviewed the police and autopsy report for Shirley Neumann told Fox 2 News he didn't think a falling body would cause the type of railing damage seen in police photos.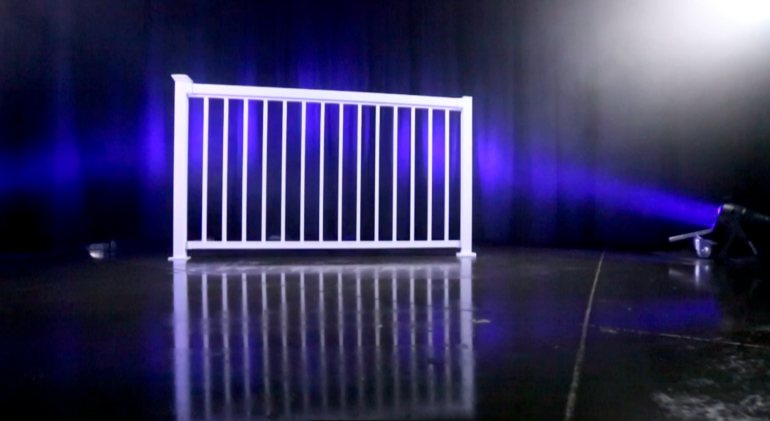 Fox 2 acquired a similar railing, made by the same manufacturer named in a now dismissed lawsuit over the fall. Two Fox 2 broadcast engineers installed it in our studio garage in preparation for our test. We're not a lab, nor do we pretend to be, but we've enlisted the help of an expert: structural engineer Eric Marlinghaus of Quality Testing and Engineering Incorporated.
Marlinghaus designed a test using his 17 years of experience in the materials testing field to show the possible outcomes under several scenarios. Our dynamic test will include 218 pounds (Neumann's body weight) in motion. It's hard weight surrounded by thin padding to duplicate a body. Our station engineers attached the weight to a pendulum that will swing into the rail.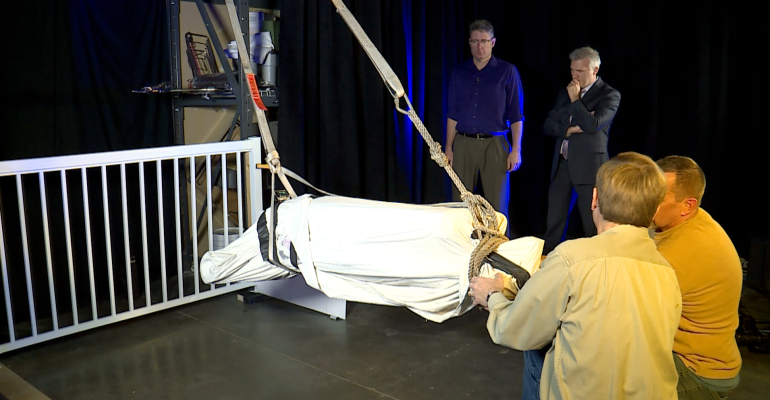 Engineer Marlinghaus first wanted a starting point. He used an industrial scale to measure force so we would know how far back to pull our weight from the rail in order to duplicate a real life impact. He weighed himself at 220 pounds, which is similar to Neumann's weight. He then measured the force of his fall – 117 pounds of force.
Marlinghaus measured his force ramming into it.
"I only put 288 pounds," he said. "That roughly is a quarter more than my weight."
Kicking the railing equaled 201 pounds of force.
Then it was onto testing the rail. We started with the estimated force from a 218 pound person falling backwards because of one theory from retired homicide Detective Sergeant Mike Guzy.
"If she backed into this and the railing gave way and she went over, that would explain why she's laying on the ground at the manner that she is," he said.
Based on Marlinghaus' calculations, he measures the distance appropriate for our first test.
"Pull back the ram about five inches and this should simulate her accidentally tripping and falling backwards into it," Marlinghaus said.
The ram dropped and the rail held. Marlinghaus used a level to confirm no damage. Next our engineer tested a theory Sgt. Guzy believes to be less likely, but still possible because of autopsy findings on Neumann's head and face. While the medical examiner didn't find anything obvious on the outside, she did note hidden bruising under Neumann's skin.
"If she went through face first, you can see where a pole could inflict this damage to her, to her subdural tissue," Guzy said. "But then again, if she went through face first, how did she wind up on her back with her head facing out. I mean, this was not an Olympic dive here." An attorney who was once suing the railing company believes Neumann could've created more momentum if she'd tripped on a threshold and tried catching herself.
Fox 2 engineers pulled the ram back 13 inches, that's equivalent to what Marlinghaus said should duplicate 288 pounds of force.
"This is the most that an individual could do by themselves," he said.
We dropped the ram; the railing held steady.
Marlinghaus examined the railing.
"Okay, the bottom rail is bent now. I don't think the balusters are damaged a bit. But from my angle, I can clearly see the bottom rail has bent itself out," he said. "However, a person would still not have fallen through this."
"That was the worst case, with me launching myself at it. I don't think in her state she could have done as much (damage) as I did." With the railing now slightly damaged, we just tried to break through it anyway in order to see how much force would be needed.
The engineers pulled our weight back 36 inches, simulating an estimated 500 pounds of force. And again, the railing did not break.
We tried once more, this time swinging the weight back as far as two men could pull it: 65 inches away. This time, the weight crashed through the rails. Marlinghaus calculated the speed at nine miles per hour.
"If you had an NFL linebacker that really knows how to hit it, they might be able to do it," Marlinghaus said. "It's the bottom rail that failed."
The bend at the bottom rail is what allowed the vertical rails to break free.
"After looking at this I would have to say what was in the pictures was fabricated after the fact," Marlinghaus said.
That was also the theory of retired Detective Sergeant Guzy.
"We're talking about a 77-year-old woman who weighs 218 pounds. She's got a bad back then uses mechanical assistance sometimes to walk any distance," Guzy said. "It's highly unlikely that she pulled of a Jesse Owens style sprint here."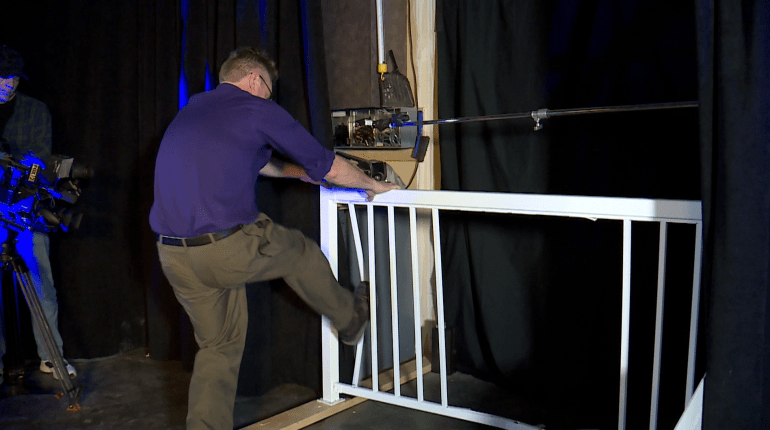 Next, we tried kicking out the remaining rails to see if that might create similar bends to the vertical bars? It did.
Here's a side-by-side comparison of the two rails kicked out in our text, next to the rails from St. Louis County police evidence photos.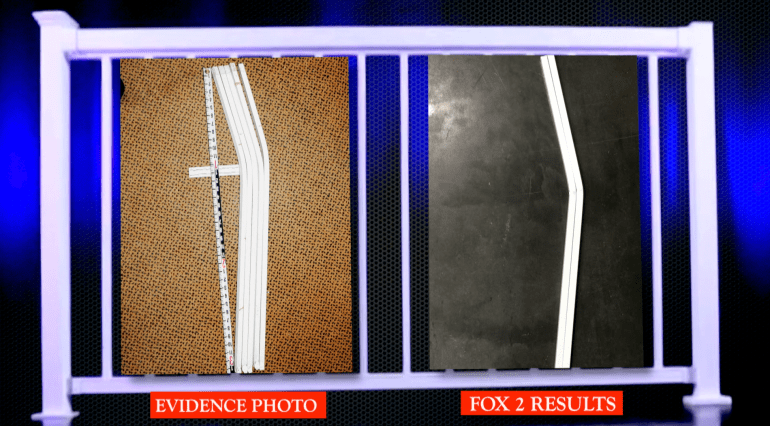 Guzy examined the results of our impact testing.
"Which is what I theorized happened to start with, but again I'm just looking at what could've caused this damage and that's what I feel is the most likely explanation," he said.
It's also important to consider that we could not account for every variable, such as the age of the railing, the quality of installation, history of repairs, or any unknown specification changes in materials. We simply tried to get as close as possible to answering questions but it may not make it any easier for police to solve.
Pam Hupp's criminal defense attorney Nick Williams did not respond to a request for comment.
Watch FOX 2 Tuesday at 10pm. A large kitchen knife may be a key in the upcoming Pam Hupp trial.  Follow us on the trail to the unusual place police believe it came from.