This is an archived article and the information in the article may be outdated. Please look at the time stamp on the story to see when it was last updated.
(KTVI) - Here come the meth cooks, where you might least expect it.  Chris Hayes has the latest drug bust numbers showing the meth problem may be moving out of the bootheel, headed our way.
Many narcotics enforcement officers believe meth labs are moving to St. Louis because other counties are requiring prescriptions for pseudoephedrine.
Franklin County Narcotics Sgt. Jason Grellner said, "You can see as we turn off the faucet of pseudoephedrine, meth labs are ending.  (Chris Hayes asked) "Where are the meth labs going?"  (Grellner responded) "St. Louis City and St. Louis County. It is the Mecca."
Grellner has followed recent investigative leads right to St. Louis.  He added, "The largest population of pharmacies is in the St. Louis City & St. Louis County area and you`ve got every meth maker from as far south as the bootheel of Missouri, Ripley County, coming here. You`re seeing organized crime getting involved."
Even partnerships between enemies, like convicted white supremacist Richard Treis, who recruited inner city St. Louis gang members like Robert `Biz` Swinney, to buy up decongestants with pseudoephedrine, so they could cook it into illegal drugs.  They`re now serving federal time for their meth making conspiracy.
Meth`s not only moving into St. Louis, but sometimes nice neighborhoods, like a well kept street on Camelot Estates Drive in South County.  St. Louis County police recently raided the same home for the second time in two years.
Sgt. Grellner said, "Most of your meth manufacturers are addicts and addicts don`t quit.  That 24 hours in jail does not cure them from their addiction.  They`re going to go right back out the door, they`re going to find more pseudoephedrine, they`re going to fire up their lab."
Sgt. Grellner said police sometimes arrest a suspect 5 times before a crime lab finishes meth residue testing that a prosecutor requires before filing charges.
In the Camelot Estates case, a resident in the home with the meth lab said they spent $2,700 to clean up the lab that was left behind by another resident.  That suspect remains free while the St. Louis County Crime Lab analyzes the apparent meth pots.
John Denny cleans up a lot of these messes, with his company Bio Clean 911.  He told me his jobs have not been where thought they would be.  He said he's found "More residential areas, not the places I had in my mind when I first got into this business. It was rather surprising.  A common situation is a son of an elderly parent or grandparent."
He would`ve been correct about the locations a few years ago when police busted just 4 meth labs in St. Louis City and 74 in St. Louis County. Then in 2011, as the numbers in SE Missouri dropped, St. Louis City saw 24 meth lab busts & 93 in St. Louis County.  Last year St. Louis City reported 41 busts -- ten times the number two years earlier.  St. Louis County reported 130, an increase of nearly 57%.
Jefferson County remains on top, also climbing in meth busts, with a staggering 346 busts in 2012.  St. Charles County Police are also making more meth busts, despite a requirement to have a prescription for pseudoephedrine in that County.  Narcotics enforcement officers believe that's because it's just a short trip to St. Louis County where you don't need the prescription.  Sgt. Grellner believes you need a large area where laws are consistent, to drive meth labs far away.
Meth Maps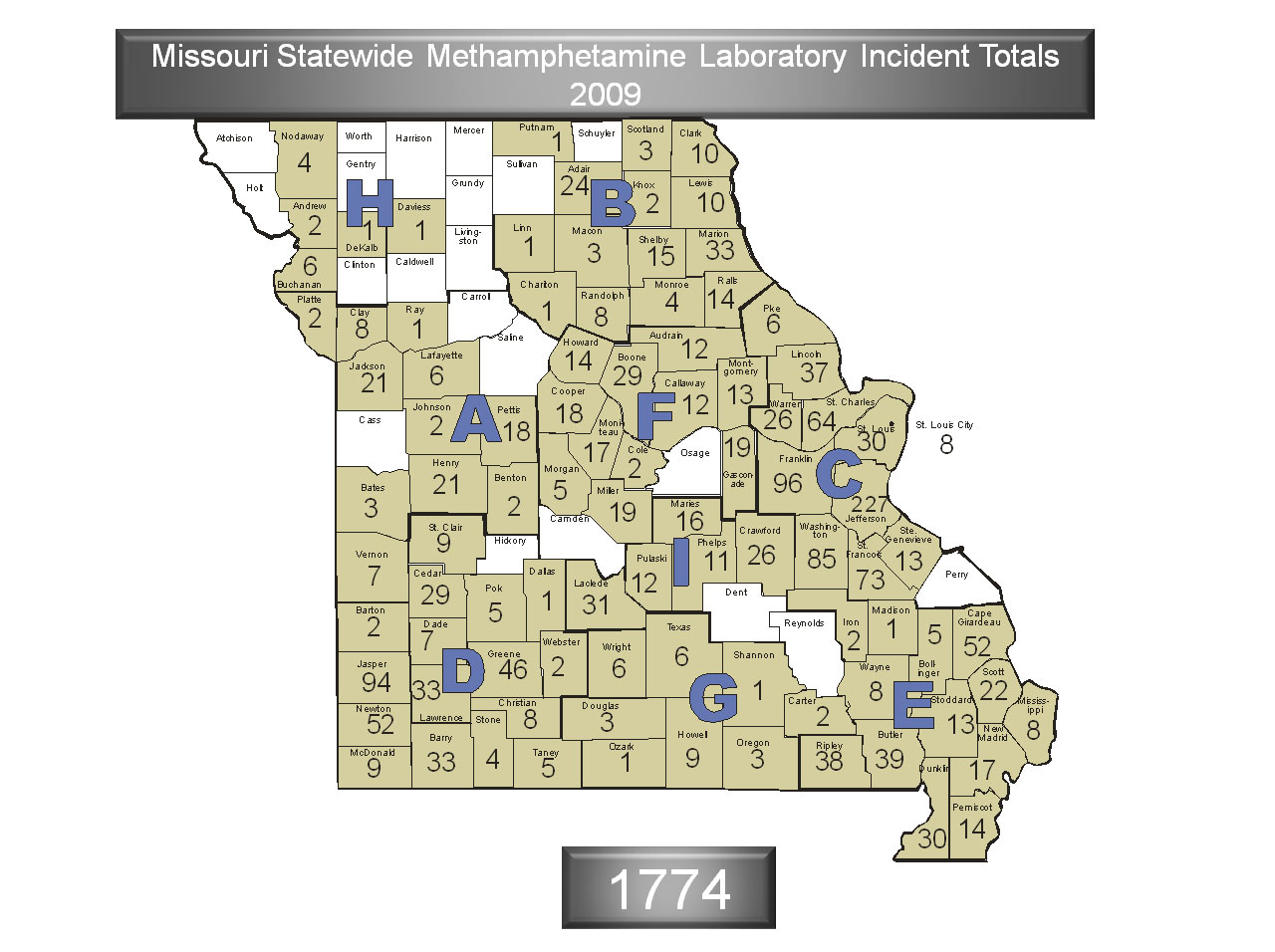 Interactive Meth Map
E-mail Chris.Hayes@TvStl.com
Facebook  http://www.facebook.com/ChrisHayesTV
Join Chris on Twitter @ChrisHayesTV