This is an archived article and the information in the article may be outdated. Please look at the time stamp on the story to see when it was last updated.
O'FALLON, MO (KTVI) – Margaret Burch was often tearful, but also angry. Since the murder of her son—Louis Gumpenberger—last August, she's focused on raising her grandson. Burch cannot stop thinking about what happened and what she heard on Pam Hupp's 911 call, just before she shot Louis.
"I will never forgive her," Burch said during an interview with Fox 2 and the St. Louis Post-Dispatch.
She is haunted by the last days with Louis. She called him her "hip hugger" ever since a car crash damaged his brain in 2005. She remembers recently telling him he should not be so trusting.
"'You have got to stop.' and I told him 'Look, I know you want friends.' I can see it Louis. 'I understand, but you've gotta be careful.'"
Last August, she said Gumpenberger helped his 11-year-old son get ready for school just like any other school day. Burch went into her room and came out to find Gumpenberger gone, without his keys or wallet. She reported him missing and tried to calm her grandson.
"I says, 'I don't know where you your daddy is.' Trevelyan asked me if I would pick him up early from school so that he could sit with me and wait for his daddy to come home."
Prosecutors believe Hupp was driving around looking for someone to kill. Search warrants indicate she may have lured Gumpenberger with a handful of $100 bills and a fake story that he could get the cash by roleplaying a 911 call.
Margaret said detectives played her part of that call.
She described it, saying, "All of a sudden Pam speaks up, 'No, no, don't shoot me' or 'Don't kill me!' It sounded fake, like she was rehearsing the part."
Hupp shot him five times, according to Gumpenberger's death certificate, which documents two shots to the chest and three to extremities.
"I wasn't there and I know he was calling. I know he was calling for help," Burch said.
Gumpenberger was reportedly the third person Hupp tried picking up, according to a joint investigation from Fox 2 and St. Louis Post-Dispatch. A surveillance camera captured Hupp approaching a woman in St. Charles County. Brent Charlton told us Hupp approached him, too.
"Persistent, just the way she just kept trying to make the conversation go," Charlton said.
According to court records, prosecutors believe Hupp planted a knife on Louis after having bought it at the O'Fallon Dollar Tree.
Burch said detectives showed her a note they found in her son's pocket. "I told the detective Louis didn't write that note," she said. "Louis can't write, like cursive, cause it'd start at the top and slowly go down and get small."
Search warrants also showed police found similarities between the $900 cash in Louis' pocket with that of a hundred dollar bill on Hupp's dresser.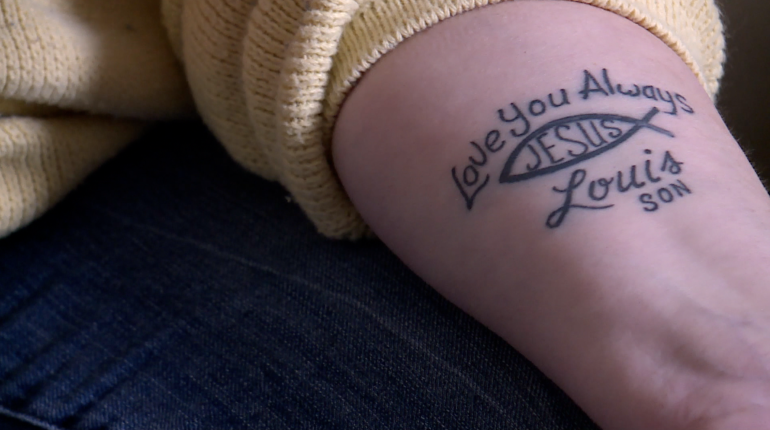 Burch said she focuses on what's next at home. She now wears a tattoo with Gumpenberger's name as she helps her grandson cope.
"We found a little bench at the school and sat down. I told him, I said, 'Trevelyan, your daddy's in heaven. He won't be home waiting for us.' Now he's a bit scared of coming home or waking up one night and I'll be gone."
Margaret Burch has the following GoFundMe account set up by her friend Chris Damato.