This is an archived article and the information in the article may be outdated. Please look at the time stamp on the story to see when it was last updated.
ST. LOUIS, MO (KTVI) – The latest clues are contained inside a St. Louis City Court file from 1992. The court record documents what appeared to be forgery and a conspiracy to steal a baby from a blind mother. Family members thought they were alone until now.
Rose Jackson and Pamela Jackson-Hutchinson have a sister that the courts determined was stolen from Homer G Phillips Hospital in 1961.
Rose said, "All those years my mother thought her child had died and then it came out that someone else raised her that she`s alive." You can see on Rose's face that she's overwhelmed with thoughts and images. It continues to haunt her, despite the fact she found out in the early 90`s. It`s documented in a 23 year old court case about an inheritance.
Marnita McGill learned she was not who she was told she was. Relatives of the parents who raised Marnita told the courts "…there was no agreement made with the parent to adopt. But, rather the minor child was stolen illegally."

Marnita was born at Homer G Phillips hospital in 1961, to Lorice Jackson, who was blind. Rose said her mom "knew she gave birth to a baby girl. She named her Marnita and the day before she was supposed to come home with the baby, they told her the baby died. So my mother came home without a child."
Rose remembers hearing the story as a child. One day in the 5th grade at Hemstead School, she was lining up to return to class after recess. She noticed a girl in the seventh grade line. Rose continued, "I was like wow, she looks like me and I was curious and I went and asked her name, you know just being a kid, being friendly."
Reporter Chris Hayes asked, "And what happened?"
Rose answered, "She said her name was Marnita.  From there it was time for us to go in so we went in the class and I couldn`t wait to get home from school and I went home and told my mother. I said you know I met this kid at school today and she told me her name was Marnita. (Mom) looked at me and she asked me was I sure."
Rose and her mom didn`t say anything more. Marnita also went home and told her mom, who then transferred Marnita to another school. She disappeared for years.
But that chance encounter sparked the search for truth, culminating in the 1992 court case. Those records hint of a deep conspiracy including a "signed document," which was a "consent of the mother to adoption."  The court noted "…it is suspect." During a hearing, daughter Pamela Jackson-Hutchinson looked at it and immediately told Judge James R Dowd that it was not her mother`s signature.
According to Pam, the Judge asked, "'Do you have any proof?' And I said 'Sure, I have her ID that she carried around.' It said signature by mark." Pam continued, "So that means an X and believe me her X was never an X. It could be looking like a T or anything. Those lines never touched or anything… I handed (the ID) to him and right then and there he said this is forgery."
The ID and possible forged document do not appear in the court file. They may be lost, but the legal record is preserved in the St. Louis Courts. So who may have forged the adoption document and conspired to take baby Marnita from one family and give her to another? Pamela and Rose recently visited the Health Department for answers. The Health Department took those records from the City run hospital, after Homer G Phillips closed in 1979. They filled out forms, hoping city workers may be able to find more records.
300 miles away, Marnita McGill hopes new clues could answer who she is. Marnita said, "I`m like torn. Who am I this this day? Who am I that day?"
She now lives in Tennessee. We talked via Skype. She said, "I was raised as an only child. I didn`t have that sisterly bond of those sisters to play with and grow with. I didn`t have that. I was the only one that was alone."
Now Marnita and her sisters have a bond as powerful as it is unique. Marnita said, "It can`t be broken. You know and it`s good, it`s good."
Yet Marnita`s life is split into two parts, with a painful gap. Her sister Rose said, "It`s like a chapter that`s missing out of a book and that`s all we`re looking for is how did this even happen?
Rose's birth certificate offers clues. It was documented two years after Marnita was stolen and believed to be dead by the birth mother. Under the section listing "children previously born to this mother" it says "3 are now living." That would include Marnita. Under the section where it asks "How many other children were born alive but are now dead?" It`s typed "0."
Excerpt from the birth certificate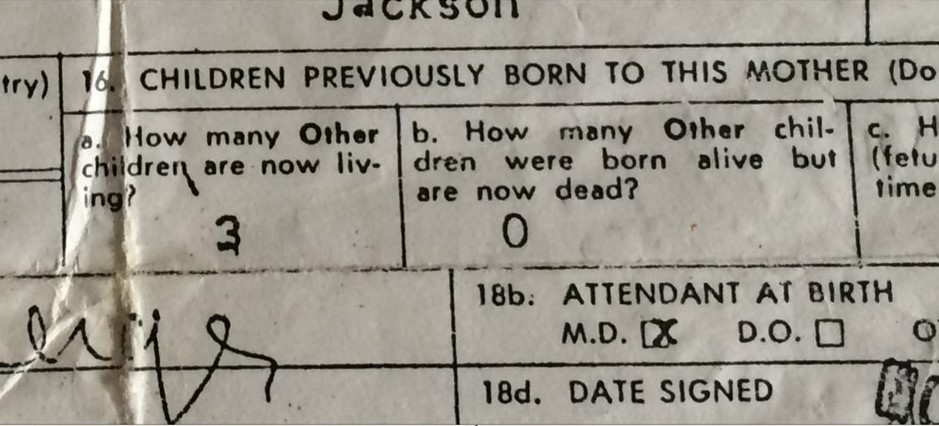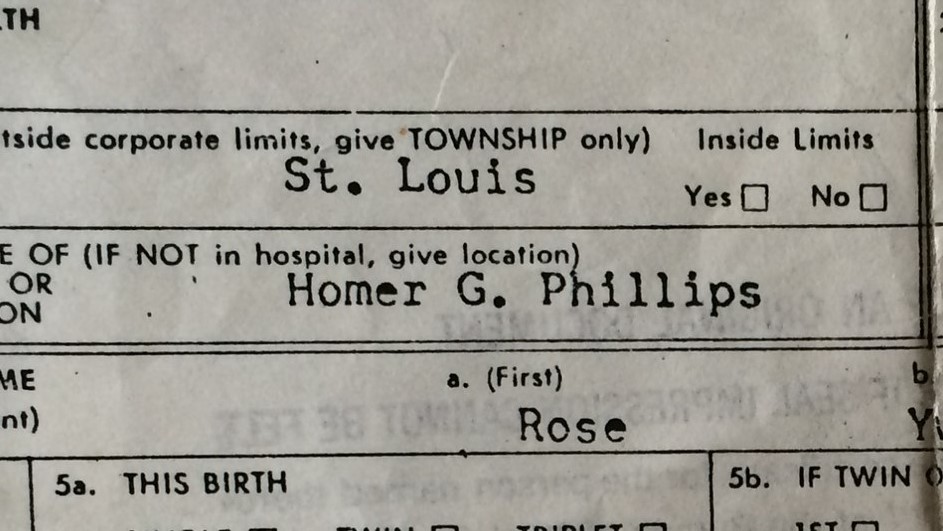 It`s the truth in plain sight. Written out during a time when a blind mother could only mourn who she thought she`d lost.
Also notice the doctor signature and the attendant`s signature, which is tougher to read. Contact chris.hayes@tvstl.com if you have any leads.
The court record reveals another disturbing fact. It says Marnita may have been a month and a half old before she went to her new family. That leaves many questions about where Marnita stayed after delivery.
Rose Jackson added, "(Marnita was) not a child that she didn't want, (Marnita was) a child that she wanted. So I just hope that they can find someone that has the answers for us, back in 1961 on that day."
Follow Chris Hayes on Twitter @ChrisHayesTV
This birth certificate offers clues in the Homer G Phillips baby mystery. See the evidence tonight @FOX2now at 9. pic.twitter.com/TJtM6GEFzv

— Chris Hayes (@ChrisHayesTV) May 18, 2015