This is an archived article and the information in the article may be outdated. Please look at the time stamp on the story to see when it was last updated.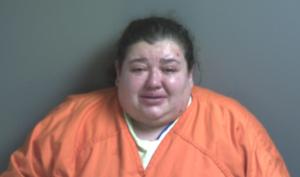 FRANKLIN COUNTY, MO (KTVI) – A 31-year-old Franklin County mother has been charged in the death of her 7-year-old daughter.  Police say Patricia Trucks has been charged with first degree murder and armed criminal action in relation to the death of her daughter.
Trucks' husband came home from work Wednesday morning and found his child and wife in the bedroom of their home.  His daughter, Lillian, was already deceased and his wife was said to be "incoherent." She was transported to St. Anthony's Hospital in St. Louis for evaluation.
According to the Franklin County Sheriff's Office, Trucks made statements to police at the hospital that they say created, "a reasonable belief in her involvement."
Lillian died as a result of gunshot wounds. It is not clear why her mother may have shot her.
Bond has been set at $1,000,000 – cash only.  She has been taken in to custody and will be incarcerated at the Franklin County Sheriff's Office Detention Center.
The family has set up a Go Fund Me account. If you'd like to help click here.