This is an archived article and the information in the article may be outdated. Please look at the time stamp on the story to see when it was last updated.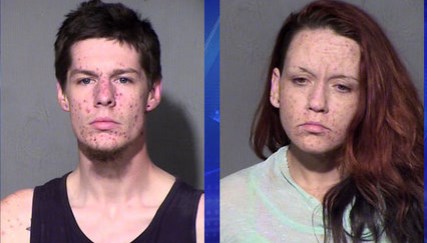 SURPRISE, AZ (KTVK) — A 4-year-old girl was found inside a vehicle littered with drugs and drug paraphernalia Sunday afternoon, police said. The girl was within arm's reach of pocket knives, a BB gun and numerous syringes commonly associated with drug use, officers said. Police were drawn to a Home Depot parking lot at 13760 W. Bell Road on a report of suspicious persons due to off behavior.
The driver, Brian Tucker, 26, and a back-seat passenger, Jacqueline Rackham, 30, along with the child, were found sitting in the vehicle. After asking everyone to step outside, the officer said a clear meth pipe, a spoon with heroin residue, a marijuana pipe, and another one hitter pipe were visible inside the vehicle.
The officer said a clear baggie, which contained a white substance that later tested positive for cocaine, was found underneath the radio. A tied-off shoe lace commonly used for injecting drugs was located where Tucker had been sitting. Tucker told police none of the drugs or paraphernalia belonged to him but to his friend who was in the vehicle earlier.
The officer said while performing a search of the vehicle, numerous syringes were seen on the ground, many of which were uncapped and within arm's reach of the child.
The vehicle was also littered with trash and old and stale food.
The couple were booked into jail, each facing one count of possession of narcotic drugs, one count of possession of drug paraphernalia, one count of endangering the life and health of a minor and one count of reckless child abuse.
By Phil Benson