This is an archived article and the information in the article may be outdated. Please look at the time stamp on the story to see when it was last updated.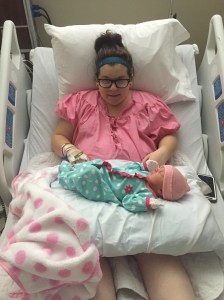 BELLEVILLE, IL (KTVI) - One Girl Scout is making Easter easier for new parents delivering at St. Elisabeth's Hospital. Madi Hopkins, 11, is paying it forward with a very special basket and a note.
Dakota Eggemeyer gave birth to Kinsley Ray on Good Friday. They had to stay at the hospital through the Easter holiday because of complications with the birth. They could not go home to see their family.
The Girl Scout was born close to Christmas.  She explains in a note that her parents could not go home for both Christmas and New Years because of complications with her birth.
New father Zachary Eggemeyer writes FOX 2:
"So my wife and I had our baby on Friday March 25. We aren't able to go home for Easter due to her C-section. So here we sit in our room and in walks the nurse with a big basket of clothes, hats and lots of other goodies for our baby. Attached to it was a beautiful note saying how her mom went through the same thing. She was not able to go home for the holidays due to complications. We don't even know this 11 year old girl. We want to thank her for what she did."

"Girl Scout Troop 116 brought the basket to the hospital. The nurse in the nursery delivered the basket to us. The 11 year old's name is Madi Hopkins who made the basket. I'm pretty sure we weren't the only ones to receive a basket."
This is the note she sent the family with an Easter basket: